MERC™​ Mobile Emergency Response Centers
CCS mobile command centers provide solutions for power, communication, and workspace that enable emergency response and business continuity, and can be deployed anywhere in the world. CCS offers customers a completely self-sufficient mobile work environment that allows them to communicate and function regardless of local conditions.
The MERC™ represents a custom-built line of mobile power and communication trailers, or mobile command centers, that are designed to provide a fully operational voice, data, and radio network and a climate controlled workspace within 15 minutes of deployment. MERC trailers can be as small as a 16-foot bumper pull trailer or a much larger 45-foot gooseneck style trailer. The MERC includes an onboard diesel generator designed to support the trailer size and associated resources.
The real power of these MERC units is the communication equipment package that CCS integrates into the trailer. A VSAT auto-acquire satellite system allows it to offer network access anywhere in the world providing not only internet service and data access but also Hosted VoIP and SIP service for two-way voice communication. This satellite network service allows the MERC users to make and receive phone calls over a preassigned telephone number. In most situations, CCS can provide a phone number that is local to the customer. The satellite service also provides full internet access which allows the customer to browse the internet to stay current with multiple news and weather agencies. The satellite network option ensures our customers that even if all normal communication resources or temporarily out of service, they will still be able to communicate.
The interior of the MERC is designed to support multiple workstations with internal LED lighting, custom rubber flooring, metal overhead storage cabinets, equipment cabinets and racks, LED wall-mounted televisions, carpeting on walls, E-Trac where needed, floor mounted recessed tie downs, kitchenettes, bathrooms, heating and ac equipment, conference room table and chairs, and many other amenities. The MERC trailers can also be built with custom slide outs to provide more interior space and exterior storage space under the trailer flooring. These trailers are sized based on each customer's specific requirements.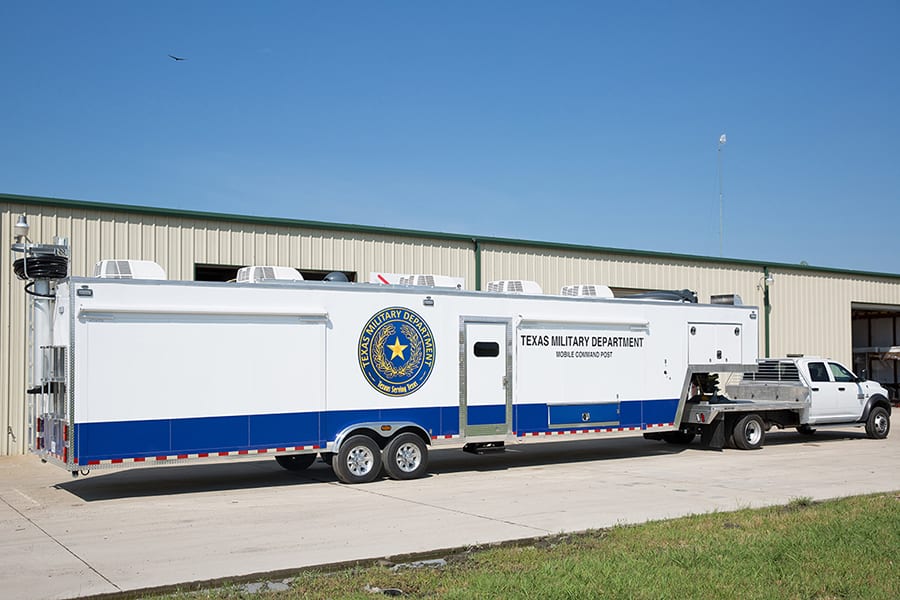 In addition to the satellite network option, CCS can also provide our customers the ability to connect with the Public or Private 4g and LTE network. The deployment of the FirstNet Band 14 network is allowing First Responders all across the United States to utilize this new network for their MERC units as an alternative to the satellite network or Public LTE network. The MERC can be equipped with LTE routers and repeaters that allow the ability to access this network and extend the signal when needed. The up and down bandwidth provided this FirstNet network is typically the most robust network package available for mobile communications with speeds sometimes upward of 30 Mbps.
A pneumatic mast equipped with removable antenna arms provides a platform to mount antennas for land mobile radios and repeaters, cellular extender antennas, wireless LAN/WAN antennas, weather station equipment, television antennas, HAM radio antennas, and video surveillance equipment. These masts can vary in height from 30 feet to 80 feet and allow the MERC users to extend their wireless signals much greater distances than a roof mounted antenna will allow. CCS fabricates custom antenna arms and mounting brackets for these masts that allow a wide variety of equipment to be placed on the mast. It is not unusual to have multiple masts installed on a MERC trailer to allow for more antennas and cameras.
Experience The Fastest Satellite Internet Speeds In The Industry
UP TO 20 MBPS X 5 MBPS
Service plans as low as $250 per month, contact us today for all service options
IP Access has created flexible and affordable satellite plans for you to obtain commercial class bandwidth when you need it most. We have mobile, usage based, flat rate and day rate plans suited to meet your usage requirements. From voice solutions to video conferencing to streaming video back to your emergency operations center, we have a plan to fit your needs.
The SELECT Network was built from the ground up with public safety and emergency communications in mind. Every component was designed for reliability to provide the highest level of connectivity all backed by 24/7 support.
User-selectable satellites

PUBLIC IP ADDRESSES INCLUDED AT NO CHARGE

NO IP ADDRESS RECONFIGURATION REQUIRED DURING SATELLITE CHANGE

Teleport relocation for inclement weather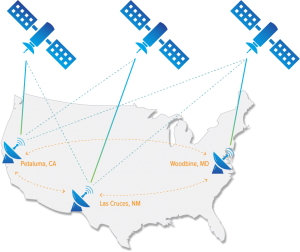 IP Access is readily available to discuss your satellite communications needs.
Let us help you craft a solution that meets your specific requirements,
ranging from your own cache of equipment stored on-site to preventative maintenance programs to turn-key rental solutions.