ABOUT IP ACCESS INTERNATIONAL
WE ARE COMMITTED TO PROVIDING THE HIGHEST LEVEL OF CONNECTIVITY
FOR OUR FIRST RESPONDER COMMUNITY. ALL BACKED BY 24/7 SUPPORT 365 DAYS A YEAR.
We are a leading provider of mobile and fixed satellite solutions with over 20 years experience serving the satellite industry as a domestic and global provider. IP Access offers end-to-end turnkey services to our first responder community. We operate a national satellite network with over 1,700 active sites daily. We continually expand our products and services to further serve on-demand collaboration within an ever-changing critical response environment.
IP Access International has been providing reliable and fast satellite internet access to public safety agencies and business customers across the country. Today our high performance network delivers up to 20 Mbps and offers a fully redundant satellite and teleport infrastructure.  We understand that not all deployments are the same so we built a network designed to offer multiple satellite options in the event you have a line of sight obstruction.  We went further by building bi-coastal infrastructure on the ground to insure a fully redundant service so we are always on and always ready.
Whatever type of incident response you have, access to reliable communications is crucial to your deployment efforts. Quick response translates into lives saved. When terrestrial communications are unavailable, damaged, or overloaded, satellite communications can provide a lifeline for resources deployed on the front lines of public safety and emergency preparedness.
Whether you have a command vehicle, trailer, or quick deploy unit, our solutions provide you the critical communications to establish an uplink at a moment's notice. You get full connectivity so that emergency response teams can have 100% reliable communications no matter where they are located.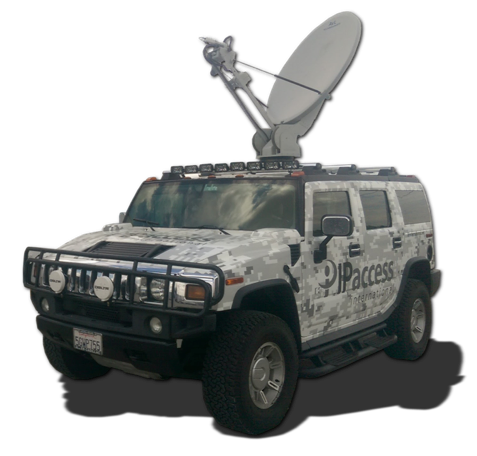 November 11, 2014

October 16, 2014

July 16, 2014

August 5, 2011

March 15, 2010

August 15, 2005

September 11, 2001

February 1, 1999
Orlando, Florida Office

We open an office in Orlando Florida in support of our expanding east coast public safety community.

Blue View

BlueVIEW, our user-facing web based portal is unveiled. Through it's interactive design, BlueVIEW allows network users the ability to monitor their systems, define operational alerts and visually see deployed assets.…
Regardless of your operations and whether you have a command vehicle, trailer,
or quick deploy unit, IP Access is available to craft a solution specific to your needs.