IP Access Hosts Mutualink Via SELECT Network
Mutualink creates networks of interoperable communities that are, at an instant, capable of sharing voice, text, radio, video, data and telephone communications in a secure environment in the cloud. For agencies that are currently using Mutualink or plan on utilizing their technology in the future, IP Access International proudly hosts Mutualink on its network providing "off grid" resiliency/redundancy in the event of compromised access to the cloud.
By hosting Mutualink within the satellite network, IP Access is able to allow agencies the ability to collaborate and communicate without the need for an Internet connection. With the growing concerns about denial of service attacks, malware, etc., this level of autonomy is key. The solution also offers back-up resiliency by enabling the delivery of interoperable communications and multimedia collaboration through software as a service in the case where an agency's physical infrastructure is damaged.
The solution ensures that agencies maintain critical interoperable communications with other agency partners and critical infrastructure entities, even in cases where traditional communications networks are rendered inoperable. By combining Mutualink's national always-on interoperable network (known as the IRAPP) with IP Access' advanced broadband satellite solution, agencies can ensure connectivity with critical partners and services in times of disaster. Mutualink's rapidly growing IRAPP network is the only emergency interoperability network of its kind, with more than 1,000 public safety and critical infrastructure entities participating on a nationwide basis.
The Problem Mutualink Solves
Mutualink overcomes the public safety challenges of needing to keep communications siloed and private in some cases, while needing to collaborate with other agencies and jurisdictions in other cases. And as we evolve from a close-knit narrowband neighborhood to a wide-reaching broadband world, the benefit of sharing video and data is as important as the need to share voice.
After action reports frequently cite lack of communications as a point of failure during both exercises and actual incidents such as active shooters. Recommendations often include implementing technology to facilitate bridging of disparate radio systems when multiple agencies and jurisdictions respond to a single event. In these cases, the goal is to share situational awareness – a goal on which Mutualink is focused. Mutualink enables the secure onboarding of media and content regardless of the type (e.g. voice, video, information) or method of connectivity.
The Solution
Mutualink provides secure inter-agency and cross-jurisdiction communications with a network of networks: an invitation-based IP network that bridges any media –  voice, video and data – shared from any device.  The Interoperable Response and Preparedness Platform (IRAPP) network supports the interconnection of land mobile radio (LMR), VoIP push-to-talk, wireline, cellular, satellite telephone, public address and intercom systems. Schools and private enterprise can stream live video (analog or IP) without giving up control.
Interoperable Communications
 For public safety, interoperable communications means overcoming the limitations of radio, video and information siloes. As a first responder priority, it means that local, state, territorial and federal agencies and private entities can collaborate to resolve incidents, regardless of whether they have a previously-executed Memorandum of Understanding (MoU). It means that no one needs to give up control of their radios or video management systems. Most importantly, it means never having to hear a dispatcher say, "I don't know how to bridge the systems."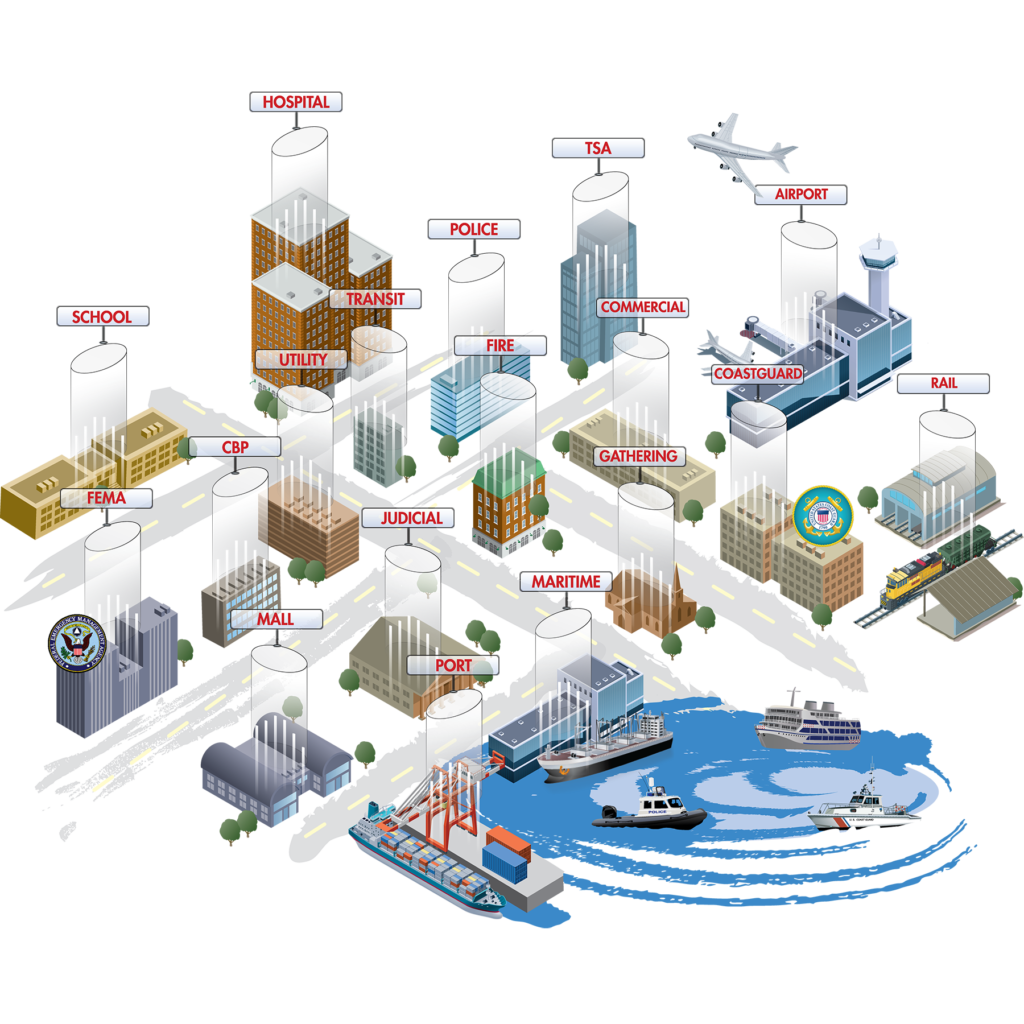 ASK US HOW TO ACHIEVE A DISASTER RESILIENT INTEROPERABLE COMMUNICATIONS SOLUTION BACKED BY IP ACCESS​