Providing Communications To Responders Who Protect And Save Lives
JOIN THE LARGEST COMMUNITY OF SATELLITE CONNECTED
PUBLIC SAFETY AGENCIES IN THE NATION
IP Access is proud to have the nation's largest community of connected first responders, public safety agencies, as well as those private companies we can't live without in a disaster or other crippling incident. IP Access has tied these members to a powerful network allowing them to identify their mutual aid partners and communicate and collaborate to bring relief as early as possible.
airlineS
Banking
Business continuity
Corporations
Critical infrastructure 
emergency response teams
ENTERPRISES
FIRE & Rescue
Fortune 200 & 500 Companies
INSURANCE
Law Enforcement
LOCAL, STATE, AND FEDERAL ORGANIZATIONS
National Guard
Oil/Gas
Private Corporations
Public Safety
Search & Rescue 
UtilitY
IP Access International's expertise is providing complete satellite communications solutions, inclusive to satellite networks, remote terminal hardware, and installation and support services. Today, IP Access operates the nation's largest satellite network of public safety agencies – which includes over 1000 agency customers encompassing 1,700 unique end points.
Capabilities Provided:
Own and operate multiple iDirect networks on multiple satellites served by multiple teleports
World-class ground facilities and network infrastructure 
The latest in satellite network technology
Unparalleled 24/7/365 customer support
Consulting and Engineering
On-Demand Dedicated Networks
Our community includes over 1000 agencies such as police, fire, sheriff, national guards as well as critical infrastructure companies; all with a mutual goal of being able to communicate at all times regardless of a disaster or attack. Our community is connected to each other through the SELECT Network allowing resilient connectivity even when the Internet is disabled. With the RedPHONE, Mutualink and other critical applications hosted "Off-the-Grid", our community will always have the ability to collaborate during the most critical times.
Experience The Fastest Satellite Internet Speeds In The Industry
UP TO 20 MBPS X 5 MBPS
Service plans as low as $250 per month, contact us today for all service options
IP Access has created flexible and affordable satellite plans for you to obtain commercial class bandwidth when you need it most. We have mobile, usage based, flat rate and day rate plans suited to meet your usage requirements. From voice solutions to video conferencing to streaming video back to your emergency operations center, we have a plan to fit your needs.
The SELECT Network was built from the ground up with public safety and emergency communications in mind. Every component was designed for reliability to provide the highest level of connectivity all backed by 24/7 support.
User-selectable satellites

PUBLIC IP ADDRESSES INCLUDED AT NO CHARGE

NO IP ADDRESS RECONFIGURATION REQUIRED DURING SATELLITE CHANGE

Teleport relocation for inclement weather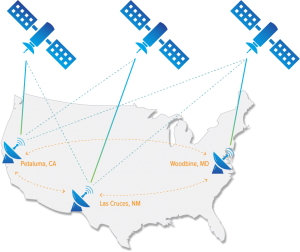 IP Access Representatives  are readily available to discuss your satellite communications needs.
Join our community today and let us help you craft a solution that meets your specific requirements.