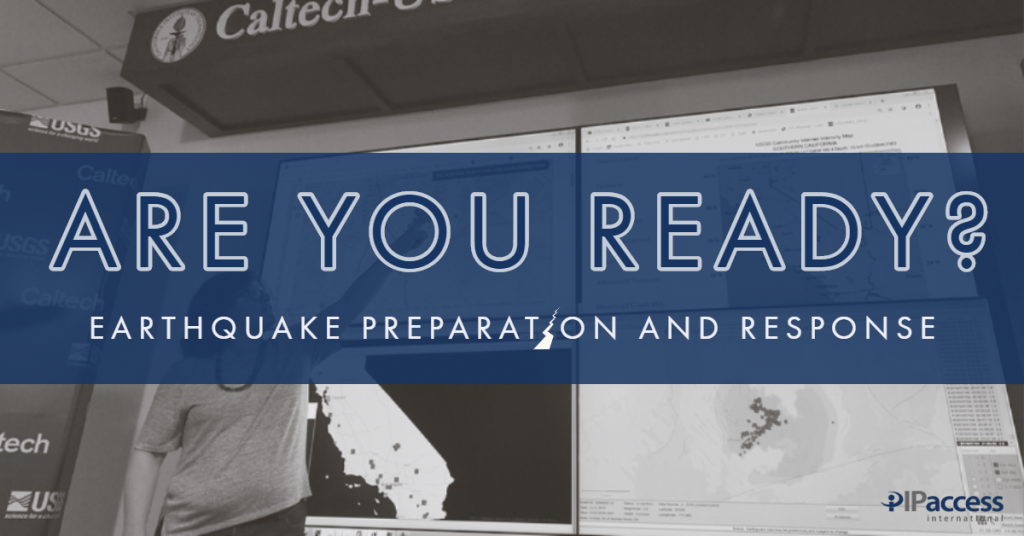 Reliable Communication Key in Times of Disaster
Last week's magnitude 6.4 and 7.1 earthquakes, felt at IP Access International's headquarters in San Juan Capistrano, Ca. and by millions across the Southern California region, remind us of the importance of being prepared before disaster strikes.
Often during natural disasters or other emergency situations, terrestrial and cellular communications lines are disrupted, and satellite communications provide the only means of reaching others outside of the disaster-affected area.
A primary difference between responding to earthquake events and other natural disasters is that earthquakes occur without warning and tend to affect a wide area even if the event is moderate. Earthquakes affect above — and below — ground, and buried utilities and communication systems are more likely to be damaged during these events.
Disaster Strikes
In 2017, Mexico City was struck by a strong 7.1 magnitude earthquake. The central Mexico quake killed hundreds, toppled buildings, damaged substations — leaving 4.78 million people without power – and shut down operations of the public transportation system. It took 20 seconds for Tecnológico de Monterrey, to suffer significant damage, loss of life and a complete wipeout their communications system. Quick response from IP Access, provided critical connectivity to the campus, allowing their emergency response team to broadcast video content so that students and faculty could remain safe and connected. Without connectivity, Tecnológico de Monterrey would not have been able to focus on critical priorities needed to rapidly and effectively manage response and recovery efforts. Recent events like this are a great example of how important it is to have good communication during and after a disaster.
Prepare, PrePARE, PREPARE
It's important to remember that emergency planning is not just for those in remote locations. Traditional companies are realizing the importance of having a business continuity plan and are implementing that plan through our satellite communications solutions. More and more organizations are writing IP Access into their continuity response because our satellite-delivered continuity is the most robust and secure continuity option available — ensuring that an organization can continue to function through an operational interruption and maintain ongoing communications between key personnel. 
Each year, IP Access offers a complimentary readiness assessment to all current and potential customers — looking at their current communications redundancies, vulnerability to systems that require terrestrial connectivity which may be degraded during an incident, and communication needs reliant on fragile terrestrial infrastructure. We urge all to take advantage of this assessment, no matter the situation, IP Access has a plan to ensure you are always ready when you need your satellite communications to work.
IP Access also delivers custom preventative maintenance service and solutions to efficiently maintain your VSAT equipment. Regular antenna maintenance and repairs will ensure your equipment continues to be reliable with trouble-free operation. We offer a wide range of services tailored to meet your specific equipment maintenance requirements and will solve the toughest maintenance tasks in a timely and cost-effective way while adhering to strict quality processes.
THE BOTTOM LINE
The bottom line is this — no one knows in advance where or when the next disaster will occur. How successfully organizations can recover connectivity after a disaster depends largely on how well they prepare in advance. This includes, regularly testing equipment, understanding communications needs and bandwidth requirements, and even having a backup plan. Creating conditions of readiness aligned with preparedness will ensure you will be better equipped and knowledgeable not if, but when disaster strikes. 
No matter what your organization's mission is, the time to evaluate your emergency/disaster communications plan is now — before the next disaster strikes. IP Access is available to help you craft a solution that meets your specific requirements, ranging from your own cache of equipment stored on-site to preventative maintenance programs to turn-key rental solutions.
For more information regarding reliable satellite communications solutions provided by IP Access International, please contact an IPA Executive today at info@ipinternational.net or call us at 949-655-1000