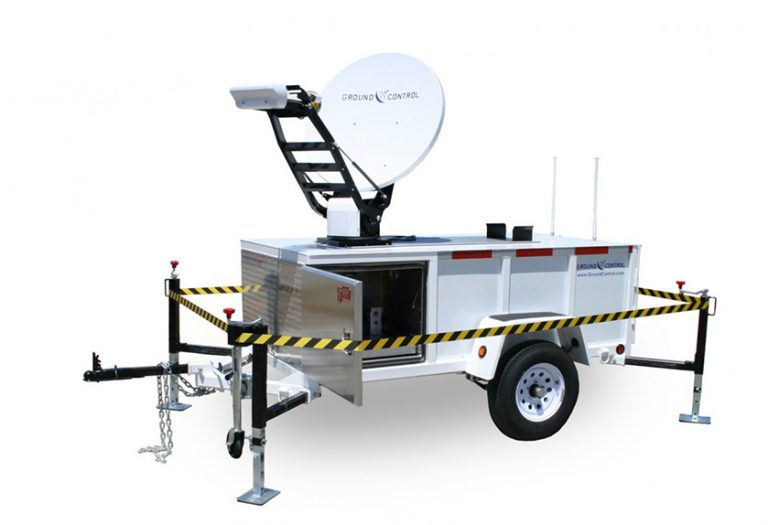 Ground Control Toughsat T-100
The T-100 self-contained multi-purpose communications trailer is manufactured by Ground Control and is quickly deployed at any location to create a high-speed (20 Mbps x 5 Mbps) satellite Internet connection – via the SELECT Network – that automatically establish a half-mile wireless access point for any in-range wireless devices. This powerful communications tool can provide essential Internet and VoIP phone service five minutes after parking and free up the towing vehicle to perform other tasks.
KEY FEATURES FOR GROUND CONTROL TOUGHSAT T-1OO TRAILER:
The Toughsat XP. Ruggedized for harsh conditions.
Easy operation – requires little or no training to operate.
Commercial Grade iDirect Service – Global Network.
Wireless "G" access point with half mile (2700 foot) range.
Dual Matrix Service – Two satellites for redundant security.
Aluminum & stainless steel construction.
Shock resistant cabinet to protect electronics.
4 hand-crank stabilization jacks with security belts.
Toughsat TS2 ACU with wireless & 4 port router.
BROADBAND INTERNET ACCESS POINT
These self-contained high-speed multi-purpose communications trailers can be quickly deployed at any location to establish up ot a half-mile (.8km) wireless connection point for high-speed Internet and phone traffic. Create a command post in minutes or use the system to stream live video from a remote sporting event. The Toughsat 1.2 meter and .98 meter mobile satellite systems from Ground Control will with a touch of a button, connect in less than 3.5 minutes, in any weather condition… Everywhere.
SIMPLE OPERATION
The Ground Control T-100 trailers come fully self-contained and require no added equipment to establish a Wi-Fi hotspot. Operation is as easy as starting the generator and pressing the Deploy button on the Toughsat ACU (Antenna Control Unit). The dish will raise, lock on satellite, and automatically establish a long range wireless hotspot up to a half-mile around the trailer for any in-range computers, smartphones or other IP devices. Satellite Service, exclusive with the TS2, allows you to choose one of two satellites on the same service plan at the touch of a button….the ultimate in redundant satellite communications. With our VoIP phone service optimized for satellite, all voice communication is as easy as using as the phone on any desk.
ENGINEERED FOR ENDURANCE
These all aluminum and stainless steel construction trailers are designed from by us to be durable on any road or sever weather condition. Its lightweight suspension is perfect for long travels or dirt roads. Internal electronics are protected in a shock resistant weather sealed cabinet. The optional environmental temperature control package allows the trailer to work in blazing hot or freezing temperatures anywhere on the planet.
T-100 COMMUNICATIONS TRAILER FEATURES
Heavy-duty all-weather construction, fully designed and manufactured by Ground Control

Bundled with High-Performance Satellite Service providing 20Mbps x 5Mbps Internet speeds

The trailer may be deployed and operated by anyone with little or no training

It establishes a half-mile Wi-Fi access point automatically to any in-range device in minutes

Stabilization jacks are not required for normal use (Jacks are used for high winds, or security belt)

The optional 1000 watt ultra-quiet generator offers 850 watts available for customer added equipment

The 6RU rackmount electronics case may be moved 50′ from trailer (such as a tent or structure)

The 6RU rackmount case has 2.5 RU space for customer added equipment. 8RU cases available

There is a large enclosed weather sealed rear storage bay for customer storage

The trailer body is rust protected – All aluminum & stainless steel construction

The trailer suspension rated for light load mobility, can be towed by any vehicle without issue

The trailer is designed to fully operate in extreme weather, including very high-winds

All cabinet doors are lockable with heavy duty latch assemblies


Cabinet lighting is operated off internal battery (no generator). Helpful for dark nights



4 Helicopter D-Rings for aerial transportation. (Small Bell Jet 206 Ranger sling load cap is 1500 lbs)


Trailer certified weight under 1400 lbs fully loaded including generator
T-100 COMMUNICATIONS TRAILER GENERAL SPECIFICATIONS
T-100 COMMUNICATIONS TRAILER ELECTRONIC COMPONENTS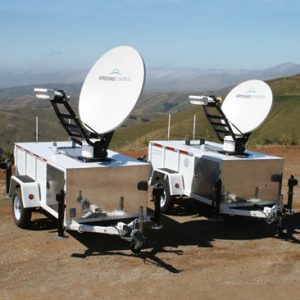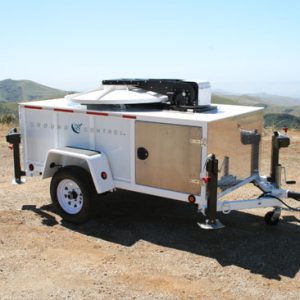 Experience The Fastest Speeds In The Industry
UP TO 20 MBPS X 5 MBPS
Service plans as low as $250 per month, contact us today for all service options
Our network was built from the ground up with public safety and emergency communications in mind. Every component was designed for reliability to provide the highest level of connectivity all backed by 24/7 support.
User-selectable satellites

PUBLIC IP ADDRESSES INCLUDED AT NO CHARGE

NO IP ADDRESS RECONFIGURATION REQUIRED DURING SATELLITE CHANGE

Teleport relocation for inclement weather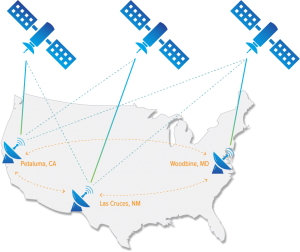 IP Access is readily available to discuss your satellite communications needs.
Let us help you craft a solution that meets your specific requirements,
ranging from your own cache of equipment stored on-site to preventative maintenance programs to turn-key rental solutions.