Ground Control TOUGHSAT XP Series
Available Options: 1.2 & .98 Meter
The Toughsat XPs are Ground Control's professional series mobile satellite systems that have incorporated the best of their earlier models and expand with new powerful design features that work in normal or extreme environments. Operation is as easy as pressing the "Deploy" button on the Toughsat controller. In a few minutes, it will automatically create a wired or wireless high-speed network for any in-range device. Our premium grade Select Network 20Mbps x 5Mbps Service provides the speeds needed for Internet, and for our optimized VoIP phone and phone service. Speak with us to learn why the Toughsat XP mobile satellite system a perfect in-field communications tool.
Toughsat XP .98 and 1.2 Meter Mobile Dish - General Features
Manufactured by Ground Control
Complete ready-to-go system pricing – No other equipment needed to purchase for operation
Bundled with our high-performance SELECT Network service providing 20Mbps x 5Mbps Internet speeds
Special service pricing for public safety organizations
One-button operation. The Toughsat may be deployed and operated by anyone with little or no training
Establishes a self-contained local area wireless "G" network (100′ radius) automatically
Complete system pricing includes Toughsat TS2 controller & iDirect Evolution X7 router
Black anodized billet aluminum construction, UV resistant plastics, sealed all-weather electronics
System is ideal for our VoIP phone service. Connect 1 or 10 phones that work like any phone
Typical seek time to find and lock on satellite and establish broadband connectivity in minutes
Computer control is not required. There is no software to install on any computer
Both .98 & 1.2 systems have low stow heights below 12 inches. Excellent for vehicle clearance issues
No external equipment (including iDirect router) is required to find and peak on any Ku-band satellite
No certification or licensing required for use. System may be operated by anyone
Dish peaking accuracy is within 0.1° with near zero play using dish braking technology
Impervious to magnetic interference. Search routines do not use a compass to acquire satellite
The XP is SNG rated to stream live video at guaranteed 4 x 4 Mbps with streaming services
Autostow feature – Dish will automatically stow if rig is moved or dish goes off signal
Optional UPS. A backup battery for stowing the dish if power is shut off or disconnected
6 watt transmitter is standard… required for 20Mb x 2Mb plans or video streaming (8 watt available)
The Toughsat is capable of locking on any liner polarized Ku-band satellite in orbit
Modular design – components easily replaced in field, normally within one hour
Onboard sensors allow quick-search for up to 10° of vehicle/rig tilt (longer times for tilting of > 10°)
No-backlash locking mechanisms for azimuth and elevation to stabilize signal in high-wind operation
Dish arm stabilizing pneumatics maintain radio position in high-wind operation
The .98m XP is operational in Cat 1 hurricane force winds of up to 75 mph (the 1.2m XP is operational 50 mph)
The XP is operational in temperatures of -20° to 140°F (-29° to 60° C) at 100% humidity
The XP operates in extreme weather with an IP-66 ingress rated with IP-67 components
The .98m XP weighs less than 125 lbs (56.7 kg). The 1.2m XP is 133 lbs
Powered by 100-240 VAC 50-60 Hz with US, UK, EU, AU and Brazil plug types available
Optional antenna booster extends wireless connectivity up to half a mile
One button stowing in less than one minute from fully deployed
Operates globally in northern or southern hemispheres
Certified field technicians in the U.S. and Canada for on-site installations
Free 24-7 U.S. based technical support from IP Access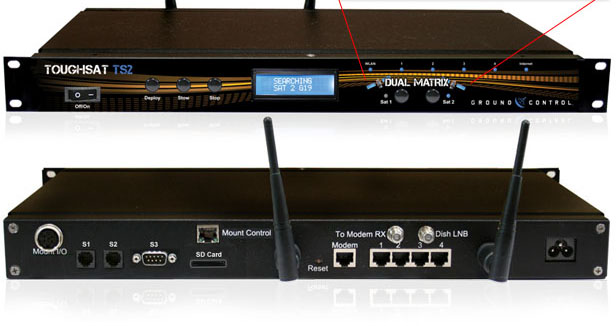 Toughsat TS2 ACU (Antenna Control Unit)
The TS2 is Included with new systems. Contact us for upgrade cost for existing systems.
One-button "Deploy" and one-button "Stow" commands. Requires little or no training to operate.
Sat 1 & Sat 2 buttons enable powerful redundant technologies for maintaining 100% uptime.
Backlit display on 1RU ACU panel for real time system status.
A 1RU ACU 19″w x 12″d x 1.75″h x with integrated full feature Wi-Fi router and 4 port LAN.
Integrated full feature 4 port router to network up to 256 connected devices.
Wireless 802.11 "G" access point rated at 54Mbps, with 4 port full-duplex 10/100 Ethernet switch.
Automatically establishes a 100′ wireless access point and wiring to computers is optional.
Integrated router is easily bypassed for supporting alternative router.
Integrated high capacity MicroSD card for user manuals and other documents.
Integrated DVB-S2 tuner reduces acquisition time and provides for satellite modem independence.
Designed for communication with iDirect routers from Ground Control or other iDirect providers.
Wireless Security TKIP (WPA) and AES (WPA2) security with 128-bit encryption.
SPI firewall, VPN passthrough, MAC address filtering, NAT, DMZ, port forwarding, port triggers.
DHCP server, DHCP client, QOS, Tos/DiffSerf, UPnP, MAC address clone, RIP v1, RIP v2.
Multiple auto-stow routines, loss of signal, vehicle movement, power loss, collisions.
Custom TS2 panel and web interface branding available for qualified resellers.
The TS2 is compatible with all Toughsat mobile satellite systems.
Popular Satellite Products from IP Access International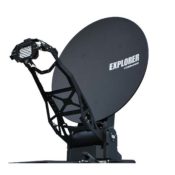 Vehicle-Mounted Mobile Satellite Systems are a cost effective solution for broadband connectivity. These antennas can be mounted on smaller vehicles and provide a range of data rates using low power transmit block up converters.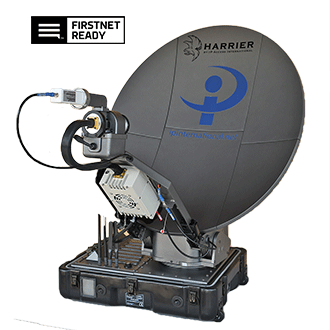 Easily transported and deployed for high-speed satellite Internet and phone service from anywhere within just a few minutes. These systems are compact, rapid-deployable, self-contained and easy to use.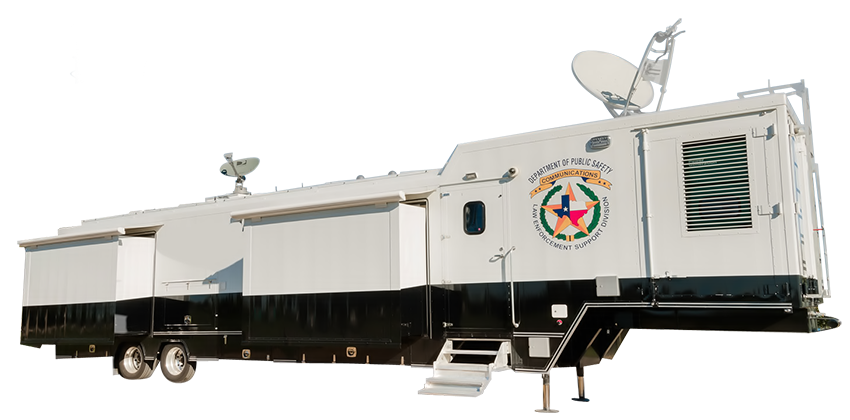 Designed to provide a fully operational voice, data, and radio network and a climate controlled workspace within 15 minutes of deployment. From 16-foot bumper pull trailer to 45-foot gooseneck style trailer - these trailers are customized for your specific needs.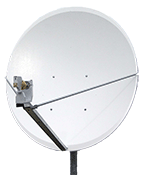 Fixed Location Satellite Solutions provide all of the network capabilities but are designed to be mounted on a rooftop or on the ground near where connectivity is desired. Fixed satellite antennas provide an economical way to provide primary and backup connectivity to any facility throughout the US.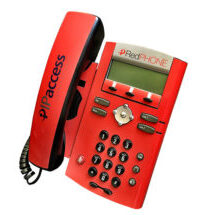 Stay connected with other RedPHONEs during the most severe outages. RedPHONEs give your agency a critical voice connection no matter where they are located in North America using our satellite technology. The RedPHONE directory includes other public agencies that are now just a voice call away during any disaster. Ask about RedPHONE Enhanced and RedPHONE Enhanced DID.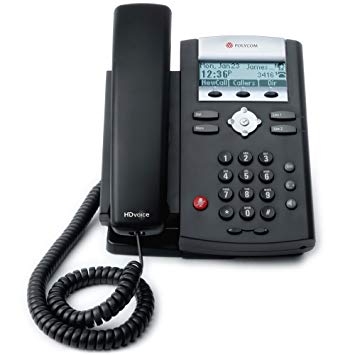 Phone Service
Over Satellite
IP Access International's VoIP phones and phone service can instantly place phones in the field when using our VSAT satellite service. Plug-and-play simplicity and reduced cost VoIP guaranteed phone service for public safety organizations. These phones perform like the phone on any desk complete with voicemail, caller ID, call forwarding, etc.
Experience The Fastest Satellite Internet Speeds In The Industry
UP TO 20 MBPS X 5 MBPS
Service plans as low as $250 per month, contact us today for all service options
IP Access has created flexible and affordable satellite plans for you to obtain commercial class bandwidth when you need it most. We have mobile, usage based, flat rate and day rate plans suited to meet your usage requirements. From voice solutions to video conferencing to streaming video back to your emergency operations center, we have a plan to fit your needs.
The SELECT Network was built from the ground up with public safety and emergency communications in mind. Every component was designed for reliability to provide the highest level of connectivity all backed by 24/7 support.
User-selectable satellites

PUBLIC IP ADDRESSES INCLUDED AT NO CHARGE

NO IP ADDRESS RECONFIGURATION REQUIRED DURING SATELLITE CHANGE

Teleport relocation for inclement weather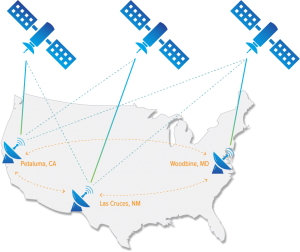 IP Access is readily available to discuss your satellite communications needs.
Let us help you craft a solution that meets your specific requirements,
ranging from your own cache of equipment stored on-site to preventative maintenance programs to turn-key rental solutions.