WAIS – Wide Area Interoperability Solution
For mission critical communications rely on JPS Interoperability Solutions – a company with proven radio interoperability expertise.
Do you need the ability to see multiple JPS "Local Interoperability Sites" at the same time, with connect/disconnect ability and control? Do you need the capability to have multiple dispatchers using IP from anywhere to be able to visually see your LIS, dispatch and listen, connect, and disconnect modules, check groups or individual sites, dispatch to groups or individual sites? Do you need constant feedback and real-time Situational Awareness? Do you need experience in your LIS design?
If you answered yes to any of these questions, your solution is the field-proven ACU, NXU and RoIP technologies by JPS Interoperability Solutions – a company with proven radio interoperability expertise.  
A Wide Area Interoperability System (WAIS) interconnects communications systems over existing network infrastructure – allowing users of disparate radios, PTToC, telephones, satellite phones, and dispatch centers to communicate with each other locally, regionally, or in systems that span entire states.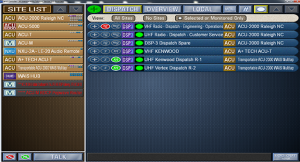 JPS's WAIS allows its operators to monitor, communicate with, and link any number of communications devices and systems via an IP network. The intuitive WAIS Controller GUI enables the communications assets of multiple ACU Gateways and other devices to be joined in interoperability nets so that all types of radios, telephones, VoIP phones, satellite phones, etc., can communicate together locally, regionally, or in systems that span entire states.
The system is designed to maintain operation even if infrastructure is lost due to natural disaster or other types of incidents. The system's distributed architecture ensures that, if any system hardware or segments of the inter-systems communications links are lost, all other portions remain operational. Local interoperability remains viable even if all outside communications links are down.
IP Access International's SELECT Network provides connectivity for products such as the JPS WAIS – via an IP network, giving access to the high-powered Ku-band satellites.
Benefits
Operators monitor system users or communicate directly with them via WAIS Dispatch capabilities

User-friendly interface clearly presents the state of the system, allowing operators to swiftly manage talk groups

Disparate radio systems can be connected locally, regionally, or statewide

Password-protected remote access available from anywhere on the network

Distributed Architecture eliminates single-points-of-failure

Scalable interoperability communications platform for critical incident command and control

The WAIS Controller's user-friendly interface clearly presents the state of the system and allows operators to swiftly build of disband interoperability talk groups
3 WAIS System Versions 
WAIS Classic
Operators uses WAIS Controller operator software interface to manage interoperability with dispersed communications assets via networks, such as a LAN, WAN, or the Internet
WAIS Enhanced
Includes all capabilities of WAIS Classic, plus direct dispatch operator two-way communications from directly within the WAIS Controller operator software interface
WAIS Enterprise
Includes the capabilities of both WAIS Classic and WAIS Enhanced, plus extends the dispatch capabilities by allowing multiple dispatch operators to simultaneously dispatch two-way communications with the same radio channels or talk groups
Advantages
Use existing ACU hardware and customer's radio systems. No forklift upgrades are necessary
Distributed architecture ensures local interoperability will work despite network failure
Real-Life Examples
During Hurricane Sandy, personnel deployed to New York City (NYC) by state government officials found themselves outside the coverage area of the Albany radio system. The NYC WAIS system used RoIP links between the EOC in Albany and onsite radio channels to maintain vital direct communications with their people.
Other WAIS configurations have been used to:
Rebroadcast simplex fire ground transmissions over wireless broadband infrastructure to repeated channels.

Replace lost communications infrastructure after tornados 
via satellite links set up by WAIS-equipped mobile response vehicles.

During wildfires, link portable repeaters over satellite, 3G and/or 4G LTE backhaul.

Assist in natural disaster communications, including 
evacuation support.

Provide mutual aid support to coordinated response for 
incidents of all types, as well as routine daily activities.
Major users of WAIS for mission-critical operations include  
the National Guard Joint Incident Site Communications 
Capability (JISCC); statewide systems in Alabama, North 
Carolina, California, and Maryland; and numerous U.S. and 
international regional systems.
About JPS Interoperability 
JPS has a long history and experience in the design and manufacture of equipment that interconnects disparate radios systems to each other or to analog and digital telephones, using Digital Signal Processing (DSP) algorithms to resolve the various problems that can occur when different communications systems link.  The heart of all JPS interoperability products and capabilities is our ACU Intelligent Interconnect Technology, first introduced in 1997.  ACU Intelligent Interconnect Technology design offers transparent and reliable communications interoperability between disparate radio systems, analog and digital telephony systems, cellular and satellite phones, dispatch consoles and other audio communication systems.
JPS Interoperability Solutions provides the most cost effective, proven, and widely-deployed mission critical communications technologies available.
Public safety, government, military, and commercial environments around the world deploy over 8,800 ACU radio interoperability gateways, in standalone and large region-wide system.
Specialities:
Interoperability
LMR Wide Area Network Communications over IP
Public Safety Analog Voting
Public Safety Push to Talk Over Cellular (PoC)

PoC to Land Mobile Radio Interfaces
PoC ISSI Interface to P25 and AIS Interface to DMR

RoIP, SIP, and RTP Protocol Interfaces for Land Mobile Radio
Extending Radio Capability with Cellular Devices
Wide Area Interoperability Solutions
Public Safety Analog Voting Over IP Backhaul
Want to learn more about JPS Interoperability Solutions? Contact Us Today!