A Rapid Communications Terminal for First Responders
Available in .85cm and 1.2M
The HARRIER incorporates the use of aggregated cellular and satellite bandwidth combined in one portable solution. Both the LTE (FirstNet/traditional) and satellite networks can be aggregated, prioritized and load balanced, maximizing the available throughput. No programming or switching necessary as the system will choose the best path for your voice, data and video needs. The HARRIER includes an onboard dual-band WiFi network allowing for wireless connections to the to the terminal. Additionally, the HARRIER also offers the ability to connect via hard wired PoE ports.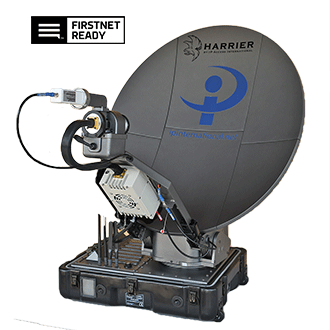 EASE OF OPERATION
Connect Wirelessly to deploy/stow dish and to gain access to the Internet or your critical applications in less than 10 minutes with no tools
Automatic multi-satellite system providing multiple look angles with no IP reconfiguring
PORTABILITY
Designed around being air deployed, the HARRIER terminal will provide your response team with voice, data and video services in one complete package
POWERFUL & LIGHTWEIGHT
Weighs < 90lbs and contains all the components necessary to run a small command center
Network performance can exceed 80Mbps aggregated burstable throughput
Satellite Antenna:
Model 1085IP: Rugged .85cm 6-piece carbon fiber reflector
Model 1220IP: Rugged 1.2M 6-piece carbon fiber reflector
Integrated Ku-band electronics 8W BUC standard, 16W optional for both 1085IP and 1220IP
Weight/Dimensions:
Case 1 – TBD – dependent upon configuration
Case 2 – TBD – dependent upon configuration Assembled operational weight: TBD
Interfaces:
3 Ethernet ports (2 PoE), 2 SIM Slots
Environmental/Power:
IP-66 Rated enclosure 120VAC/6A
Maximum Power consumption 150W during deployment, 50W idle
WIRELESS NETWORKING:
Dual-band 2.4 GHz/5.8 GHz 802.11 a/b/g/n/ac
CELLULAR NETWORKS:
FirstNet Ready & Band 14 Capable Verizon, AT&T, Sprint and T-Mobile options for LTE connectivity 
Aggregated 30-60Mbps performance 
Automated satellite/cellular network failover
Highly available Ku-band network, burstable to 20Mbps X 5Mbps 
Redundant bi-coastal teleports with multiple satellites for redundancy 
Aggregate burstable speed in excess of 80Mbps in most LTE environments
VOIP PHONE SERVICES:
Includes one IPAccess RedPHONE for terminal-to terminal or landline calling capability 
Additional VoIP lines and devices available
Experience The Fastest Speeds In The Industry
UP TO 20 MBPS X 5 MBPS
Service plans as low as $250 per month, contact us today for all service options
Our network was built from the ground up with public safety and emergency communications in mind. Every component was designed for reliability to provide the highest level of connectivity all backed by 24/7 support.
User-selectable satellites

PUBLIC IP ADDRESSES INCLUDED AT NO CHARGE

NO IP ADDRESS RECONFIGURATION REQUIRED DURING SATELLITE CHANGE

Teleport relocation for inclement weather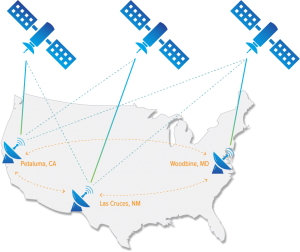 LOOKING FOR MORE INFORMATION? CONTACT US TODAY.