Providing Communications To Responders Who Protect And Save Lives
VSAT Rapid
Communications Terminal
The HARRIER incorporates the use of aggregated cellular and satellite bandwidth combined in one portable solution. Both the LTE (FirstNet/traditional) and satellite networks can be aggregated, prioritized and load balanced, maximizing the available throughput. No programming or switching necessary as the system will choose the best path for your voice, data and video needs. The HARRIER includes an onboard dual-band WiFi network allowing for wireless connections to the terminal. Additionally, the HARRIER also offers the ability to connect via hard wired PoE ports.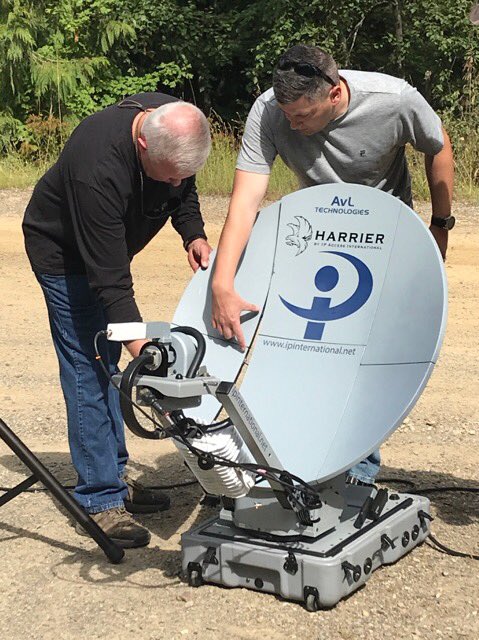 Rapid Communications Terminal
A FirstNet Ready Rapid Communications Solution for First Responders – providing voice, cellular, data and video streaming in a highly-portable terminal.
Available in .85cm and 1.2M
FirstNet Ready
Fully self-contained – no external electronics case
Highly portable, quick deploy system packs in two airline-checkable cases
Available bandwidth up to 20Mbps X 5Mbps via satellite
Multiple satellite look angles with no IP reconfiguration
Integrated LTE and Band 14 connectivity
Model 1085IP: Rugged .85cm 6-piece carbon fiber reflector
Model 1220IP: Rugged 1.2M 6-piece carbon fiber reflector
Integrated Ku-band electronics 8W BUC standard, 16W optional for both 1085IP and 1220IP
Case 1 – TBD – dependent upon configuration
Case 2 – TBD – dependent upon configuration Assembled operational weight: TBD
3 Ethernet ports (2 PoE), 2 SIM slots
IP-66 Rated enclosure 120VAC/6A
Maximum Power consumption 150W during deployment, 50W idle
Dual-band 2.4 GHz/5.8 GHz 802.11 a/b/g/n/ac
FirstNet Ready & Band 14 Capable Verizon, AT&T, Sprint and T-Mobile options for LTE connectivity 
Aggregated 30-60Mbps performance 
Automated satellite/cellular network failover
Highly available Ku-band network, burstable to 20Mbps X 5Mbps 
Redundant bi-coastal teleports with multiple satellites for redundancy 
Aggregate burstable speed in excess of 80Mbps in most LTE environments
Includes one IP Access RedPHONE for terminal-to-terminal or landline calling capability
Additional VoIP lines and devices available
FUSION MIX & FUSION Service
Access Satellite, Cellular, & FirstNet Seamlessly and fluidly as the presence and quality of available networks fluctuate
When responding to major emergencies like natural disasters, first responders need to be able to communicate. When the local infrastructure has been destroyed, first responders can leverage the FUSION's VSAT connection. Once the LTE network has been restored first responders can then switch to the lower cost LTE connection.
Introducing the next generation of hybrid-based technologies with network location capabilities through built-in awareness and logic
Web-based interface graphically displays all available networks, including data totals being passed over each available network and allows users complete network situational awareness. Support available 24/7/365 across all networks – eliminating the need for an on-site network engineer.
Interested In Learning More?
Contact Us Today.