Stay Up and Running With Our Satellite-Based Business Continuity Services
When it comes to business continuity, proactive planning and a strong execution strategy are essential steps in reducing downtime from any type of "event". From natural disasters and human error and malicious acts, disruptions occur and the impact to your business could be catastrophic. Ensure your business survives the unexpected with satellite connectivity and critical communications provided by IP Access International. 
IP Access is the leading provider of satellite internet communications solutions for business continuity and disaster recovery. Where communications are mission-critical, satellite internet connectivity gives key personnel a reliable communications backup during and after an emergency and helps to complete any disaster recovery plan.
Satellite connectivity offers the following benefits: 
WAN Diversity, independent of the terrestrial infrastructure 

Extensive coverage, available across the U.S., Canada, and Mexico

Quick installation and instant activation

Single source provider

Shared bandwidth between branch offices and pay-as-you-use mean low monthly cost
Satellite internet is often overlooked by companies when building a business continuity and disaster recovery plan. Some believe it's too expensive, too slow, and too unreliable. That simply isn't the case. When traditional cellular and land-based telecommunications infrastructures are damaged by storms, floods, hurricanes, tornadoes, earthquakes and other natural disasters or unexpected events – satellite internet does not rely on the same infrastructure and terrestrial internet networks, making it possible to sidestep risk factors that could render landline networks unavailable. 
Reliability 
Satellite internet redundancy affords businesses the ability to automatically switch traffic when their primary landline internet connection fails, ensuring uninterrupted connectivity and operational uptime.
Affordability
Cost is another key factor that makes satellite internet such a no-brainer backup option. Not only does it afford truly independent redundancy, but it is a surprisingly affordable, exceptionally cost-effective solution. Businesses will not have to invest considerable resources in private communications infrastructure or strain operational budgets; in fact, they can expect costs similar to those charged by land-based providers.
A combination of factors makes satellite internet the best choice when considering internet connectivity redundancy strategies, and anyone faced with making those decisions would do well to examine their options in considering a backup provider. For true reliability, unfailing business continuity, and attractive cost profiles, satellite internet is miles above the competition. 
How It Works
When your primary network provider fails, unlimited on-demand satellite connectivity is available with a 1.2 meter satellite system on the roof. Maintain business continuity with any unexpected event transparently using your network router to perform a failover to a satellite link. 
When activated, service can be billed by the day or by the volume of data transferred. All plans do require a minimal monthly cost to ensure an active satellite internet connection.
Installation and Maintenance Support
Our nationwide base of certified field technicians will install and be quickly available to maintain the satellite equipment. Our 24/7 support department is also available should immediate assistance be required.
Simple Integration
IP Access will help you integrate our satellite system into your existing network. The purchase of a failover router (One with two or more WAN ports) may not be necessary if already owned.
Failover
If a fail event happens, the switch or failover to the satellite gateway would be instant and would not require administrator intervention.
Re-connection
When the primary connection returns, the satellite connection reverts back to sleep mode.
Suggested Business Continuity Solutions
FIXED SATELLITE SYSTEMS
Fixed satellite solutions provide all of the network capabilities but are designed to be mounted on a rooftop or on the ground near where connectivity is desired. Fixed satellite antennas provide an economical way to provide primary and backup connectivity to any facility throughout the US.
OFF GRID CRITICAL VOICE COMMUNICATION \\ REDPHONE
Stay connected with other RedPHONEs during the most severe outages. RedPHONEs give your agency a critical voice connection no matter where they are located in North America using our satellite technology. The RedPHONE directory includes other public agencies that are now just a voice call away during any disaster. Ask about RedPHONE Enhanced and RedPHONE Enhanced DID.
Experience The Fastest Satellite Internet Speeds In The Industry
Service plans as low as $250 per month, contact us today for all service options
Our network was built from the ground up with public safety and emergency communications in mind. Every component was designed for reliability to provide the highest level of connectivity all backed by 24/7 support.
USER-SELECTABLE SATELLITES

PUBLIC IP ADDRESSES INCLUDED AT NO CHARGE

NO IP ADDRESS RECONFIGURATION REQUIRED DURING SATELLITE CHANGE

TELEPORT RELOCATION FOR INCLEMENT WEATHER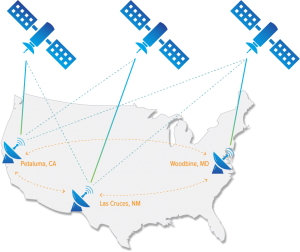 IP Access' satellite internet service provides reliable, customized, and secure wireless backhaul solutions to integrate seamlessly with your company's existing network infrastructure. Our connectivity backup service seamlessly delivers broadband Internet when your primary Internet service fails and will keep your business fully-functional until the primary connection is restored.
Reduce uncertainty with a proactive plan to keep your business operational and available in the event of a disaster. Let IP Access International's satellite internet service provide a truly diverse way to stay connected. Contact us today.