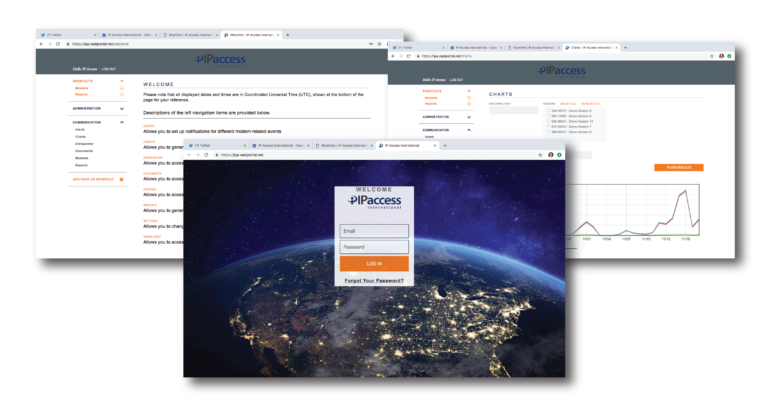 Is your business prepared for a disaster? Once you've invested in a satellite network for emergency communications, your systems must be online and operational at all times. Using satellite network monitoring technology ensures you know the location and operating status of deployed assets 24/7.
Why Use Satellite Communications Technology?
Staying online is more critical now than ever before. Today, many businesses rely on a network connection to store data, manage remote facilities and maintain contact with global teams. 
However, modern wireless connections like Wi-Fi and cellular service depend on underground wiring and cell towers, which are often vulnerable during a natural disaster.
In comparison, satellite communications do not rely on vulnerable terrestrial infrastructure. Instead of using land-based towers, a satellite network transmits data through a satellite device (like a satellite phone) directly to Earth-orbiting satellites. The data is then received at the nearest land-based station (or gateway). 
Although cell phones have become the gold standard in wireless communications, they cannot always provide reliable connectivity, particularly with the increasing occurrence of natural disasters worldwide. 
In 2020 alone, there were over 400 natural disasters worldwide, leading to injuries, fatalities and economic losses of millions of dollars. It is common for a natural disaster to bring down an entire electrical grid, taking terrestrial communications offline. 
However, a satellite network is online 24/7, enabling communication to support life saving efforts, protect property and coordinate response and recovery operations.
How Satellite Network Monitoring Can Prepare You for a Disaster
Although satellite communications are far more reliable, particularly in remote areas that lack sufficient cell service, they are not entirely infallible. That's why satellite network monitoring is essential for business continuity and uninterrupted service during a disaster.
IP Access's BlueVIEW gives your business complete oversight of your satellite network so you can verify your sites' status and readiness anywhere, anytime. In addition, our secure web-based portal enables you to monitor your systems and configure customized operational alerts so authorized staff can stay informed about their communication assets.
Here are some of the features of BlueVIEW that ensure your systems are ready to go:
Send Alerts
If you oversee multiple locations, satellite network monitoring can be tricky. With BlueVIEW, you can send alerts to authorized users to immediately notify them of any satellite network issues that could impact their connectivity.
You can monitor certain modems to check their status individually or create groups to oversee multiple modems at once using customized alerts. For example, you can create a group of all the modems in a department, site or even an entire region, so you have a big-picture view of your satellite network.
View Site Status and Readiness
BlueVIEW's site status tool is user-friendly, allowing users to quickly look over their sites and see if any issues need to be addressed. Here are the site statuses that BlueVIEW uses:
Green:

System is currently online and active in the network

Yellow:

System was intentionally commanded offline (e.g., the mobile antenna was stowed)

Red:

System is currently offline or out of the network

Gray:

System is currently deactivated
You can also use BlueVIEW to generate a site readiness report, which includes data about:
Site status

Date last online and with what satellite

Any pending configuration changes
Pinpoint Deployed Asset Locations
BlueVIEW can display all your modem locations on a map for a more visual approach to satellite network monitoring. You can filter modems by status, mobility, modem group, satellite, or another custom search query to look at specific areas. 
With a visual representation of your locations, you can easily verify if a connectivity problem is isolated to just one device or if an entire area has been affected.
Generate Reports and Charts
BlueVIEW enables your business to track the proper utilization of satellite network assets and data usage. For example, you can create daily and monthly usage reports of modems and LTE during a specified time period. You can also use pooled modem usage reports to oversee a group of connected devices more efficiently.
BlueVIEW's chart generator allows you to monitor your network's usage and performance over time so you can determine if actual data usage aligns with your expectations. You can generate charts for how much data has been received or transmitted or see the total data combined.
Monitor Web Traffic by Application
One of BlueVIEW's newest features is the ability to see traffic breakdowns by application. This enables authorized users to see what applications people are using, ensuring that employees are not accessing prohibited applications or websites during work hours. 
Choose BlueVIEW for the Best Satellite Network Monitoring
At IP Access, we know that your business needs the highest level of connectivity to keep your systems online along with accessible 24/7 support, even during a disaster. That's why we created BlueVIEW and BlueVIEW on the Go, which provides situational awareness and asset management from the convenience of your mobile device.
With BlueVIEW, you get complete visibility of your satellite network assets, performance, location and bandwidth usage, bringing essential satellite network monitoring tools right to your fingertips. You can set up alerts, monitor sites remotely, run reports and even request new services from any device.
To learn more about how BlueVIEW can meet your satellite network monitoring needs, contact us today.