Drive-Away VSAT Cobham EXPLORER 8120
A 1.2 meter Stabilized, Auto-Acquire, Drive-Away Antenna System
The EXPLORER 8120 harnesses the same unique Dynamic Pointing Correction technology and carbon fiber construction introduced with the already available 1 meter model, EXPLORER 8100.
As the newest member of the EXPLORER 8000 family of VSAT terminals, EXPLORER 8120 is equipped with a single piece 1.2m carbon fiber reflector and the unique Dynamic Pointing Correction technology that ensures continuous connectivity even if the vehicle rocks.
UNINTERUPTED COMMUNICATION 
Traditional vehicle mounted 'Comms-On-The-Pause' VSAT antennas can lose connection to the satellite with even the slightest movement of the vehicle on its suspension caused by high winds or people getting in and out. EXPLORER 8120 isn't a traditional VSAT antenna.
With EXPLORER 8120 you can enjoy continuous connectivity services even if the vehicle rocks thanks to the unique 'Dynamic Pointing Correction' system. Using lessons learned from Cobham SATCOM's maritime stabilized VSAT antennas, EXPLORER 8120 offers the most reliable connectivity available in its class.
Reliable EXPLORER 
EXPLORER 8120 is developed completely in-house by Cobham SATCOM. It features genuine and rugged EXPLORER design, which is already established and proven with Cobham SATCOM's highly regarded EXPLORER BGAN and GX terminals.
It is designed to offer unparalleled Comms-On-The-Pause performance, ensuring high-quality connectivity that is available even when other antennas would have lost their connection to the satellite. In the field, this means you can count on EXPLORER 8120 to provide you with vital communications whatever the conditions.
Industry-Leading 
EXPLORER 8120 features industry-leading fast satellite acquisition with pointing achieved in less than four minutes, making getting connected to a satellite a quick and easy process.
The system is available in Ku-band configuration and works with most major satellite networks.
Experience The Fastest Satellite Internet Speeds In The Industry
UP TO 20 MBPS X 5 MBPS
Service plans as low as $250 per month, contact us today for all service options
Our network was built from the ground up with public safety and emergency communications in mind. Every component was designed for reliability to provide the highest level of connectivity all backed by 24/7 support.
User-selectable satellites

PUBLIC IP ADDRESSES INCLUDED AT NO CHARGE

NO IP ADDRESS RECONFIGURATION REQUIRED DURING SATELLITE CHANGE

Teleport relocation for inclement weather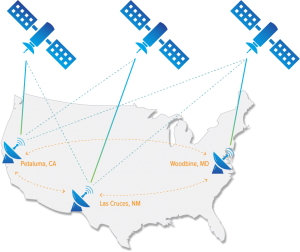 Contact us today. we are standing by to discuss your satcom needs.