Providing Communications To Responders Who Protect And Save Lives
Stay connected anywhere with FUSION Cellular and Satellite Services
FUSION technology allows you to access Satellite, Cellular and FirstNet seamlessly and fluidly as the presence and quality of available networks fluctuate. 
First responders, enterprise businesses and field ops teams need reliable mobile internet connections to run their applications in the field. But cellular connections are in constant flux due to environmental conditions and customer demand. Monitoring and switching carriers to maintain connectivity is a constant, frustrating process.
In cases where the cellular connection is not possible on a specific carrier, FUSION will source alternative carriers. If no available cellular networks can be reached, FUSION will access satellite networks to complete the necessary connection.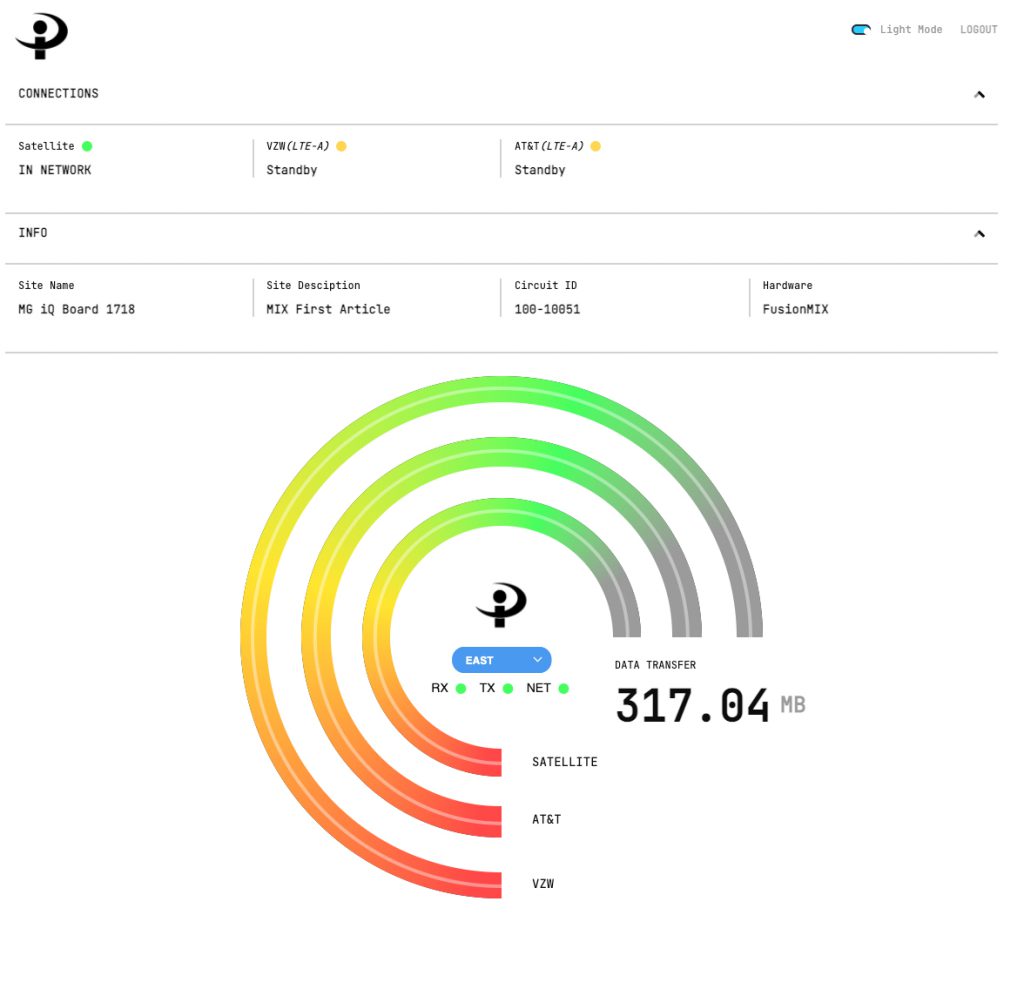 Unsure how many GB/Month you'll need?
Our plans provide 20, 40, 80, and 100 GB options.
(If you require more than 100GB we have options for that as well)
Contact us today to discuss your options. We will help you get a handle on just how much data you'll need.
What are the benefits of FUSION Technology?
Connect to your vital applications from anywhere
FUSION brings together the benefits of higher speeds, lower latency of LTE when available, and the reliability of VSAT to find you the best connection. Multiple fallback options & one-touch satellite reconfigurations allow you to maintain the highest quality and speed for your Data, Video, and Voice applications.
Save Money and Simplify Costs With One Monthly Bill
A typical mobile data service plan requires you to purchase bandwidth from multiple carriers in order to have the best chance of getting coverage out in the field. Even then, connectivity can be spotty and is never guaranteed. FUSION gives you access to 20GB of data from Verizon, AT&T, T-Mobile, FirstNet, and Satellite — optimized under one monthly bill.
FUSION MIX, the all-inclusive service from IP Access, includes multiple cellular connections, multiple satellite connections, hardware, configuration, upgrades, and replacements under one service plan. The single 1RU box saves a ton of space and only requires a single electrical outlet, allowing you to get up and running in minutes.
First Responder/Mobile Command
When responding to major emergencies like natural disasters, first responders need to be able to communicate. When local infrastructure has been destroyed, first responders can leverage FUSION's VSAT connection. Once the LTE network has been restored, first responders can then switch to the lower cost LTE connection.
Mobile Banking and ATM Resiliency
By providing both LTE and VSAT connectivity in a single box, FUSION can be deployed in remote bank/ATM locations, giving the integrator flexibility in their installation. If both connectivity types are available at the remote location, FUSION will choose the best path with the ability to failover/fallback between LTE and Satellite.
Oil and gas operations occur in remote and harsh conditions, making coverage and uptime a challenge. Decision-makers can deploy FUSION to take advantage of both LTE and/or VSAT connections in a single device, offering reduced costs, increased performance, and reduced downtime. By providing automatic network diversity, FUSION enables expanded coverage options for your real-time data, voice, and video. The combination of LTE/VSAT networks allows you to keep your operations running smoothly without sacrificing the bandwidth-hungry needs of today's applications.
As governments in developing countries extend connectivity to rural and remote areas, they can streamline their deployments with a single box solution. FUSION provides both wireless and VSAT connectivity, wherever either is available or commercially feasible and caters to multiple types of sponsored projects that can stimulate economic growth.
FUSION Service Hardware Options
B.Y.O.D. Bring Your Own Device
If you already own compatible equipment (cellular modems, routers, satellite antenna, etc.), you can purchase the IPA FUSION service to run on top of your existing equipment.
Purchase individual components from IP Access and network them together. Necessary items would include an SDWAN box, iDirect Satellite Modem, Satellite antenna, and cabling.
The FUSION Harrier provides the ultimate in all-in-one integration in a portable cased unit. This outdoor unit is completely autonomous, can be set up in five minutes, and only requires a power source.
If you're looking for an all-inclusive service, FUSION MIX is the perfect white-glove solution. FUSION MIX includes all the necessary hardware, multiple cellular connections, multiple satellite connections, upgrades and configuration. With one service package, you pay a single bill and receive the same bandwidth usage no matter which network is used to transmit the data.
:: ALL INCLUSIVE HARDWARE AND SERVICE OFFERING ::
MIX Service includes multiple cellular connections, multiple satellite connections, hardware, and configuration. MIX hardware is fully managed, includes sparing replacements and upgrades (when available) at no additional cost with a FUSION Service agreement.