INTRODUCING FUSION \\ LTE CELLULAR-VSAT SOLUTION
Our technology automatically finds and connects to all available networks including, LTE 4G/5G and Satellite without user assistance or configuration. 
FUSION provides maximum flexibility with automated VSAT/LTE failover and fallback. This cost-effective solution reduces the hardware footprint, simplifies installation, and allows IP Access to design and deploy services which aggregate LTE and VSAT billing under a single bill to the end-customer.

FUSION combines iDirect's DVB-S2/DVBS2X* satellite remote with Cradlepoint's LTE cellular modem, creating a converged solution able to deliver reliable data communication for several use cases where physical path redundancy is critical. As a result, customers are able to reach more end users with highly available, reliable connectivity opening up new opportunities for business. There are several key markets and applications that benefit from this hybrid approach including Government & Emergency Response, Oil & Gas, Mobile Banking, and Disaster Recovery.
FUSION APPLICATIONS \\ MARKETS SERVED
FIRST RESPONDERS / MOBILE COMMAND
When responding to major emergencies like natural disasters, first responders need to be able to communicate. When the local infrastructure has been destroyed, first responders can leverage the FUSION's VSAT connection. Once the LTE network has been restored first responders can then switch to the lower cost LTE connection.
OIL AND GAS
Oil and gas operations occur in remote and harsh conditions making coverage and uptime a challenge.Decision-makers can deploy FUSION to take advantage of both LTE and/or VSAT connections in a single device allowing reduced costs, increased performance, and reduced downtime. FUSION brings together the benefits of higher speeds, lower latency of LTE when available, and the reliability of VSAT. By providing automatic network diversity, FUSION enables expanded coverage options for your real-time data, voice, and video. The combination of LTE/VSAT networks allows you to keep your operations running smoothly without sacrificing the bandwidth-hungry needs of today's applications.
MOBILE BANKING AND ATM RESILIENCY
By providing both LTE and VSAT connectivity in a single box, FUSION can be deployed in remote bank/ATM locations giving the integrator flexibility in their installation. If both connectivity types are available at the remote location, FUSION will be able to choose the best path with the ability to failover/fallback between LTE and Satellite.
RURAL BROADBAND
As governments in developing countries extend connectivity to rural and remote areas, they can streamline their deployments with a single box solution. The FUSION provides both wireless and VSAT connectivity, wherever either is available or commercially feasible and caters to multiple types of sponsored projects that can stimulate economic growth.
NOW AVAILABLE IN TWO FORM FACTORS
The Fusion 1U rack mount allows for a space-conscious design meant for brick and mortar facilities or mobile vehicles where a satellite antenna is on the roof.

Experience The Fastest Satellite Internet Speeds In The Industry
UP TO 20 MBPS X 5 MBPS
Service plans as low as $250 per month, contact us today for all service options
IP Access has created flexible and affordable satellite plans for you to obtain commercial class bandwidth when you need it most. We have mobile, usage based, flat rate and day rate plans suited to meet your usage requirements. From voice solutions to video conferencing to streaming video back to your emergency operations center, we have a plan to fit your needs.
The SELECT Network was built from the ground up with public safety and emergency communications in mind. Every component was designed for reliability to provide the highest level of connectivity all backed by 24/7 support.
User-selectable satellites

PUBLIC IP ADDRESSES INCLUDED AT NO CHARGE

NO IP ADDRESS RECONFIGURATION REQUIRED DURING SATELLITE CHANGE

Teleport relocation for inclement weather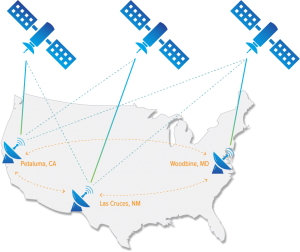 LOOKING FOR MORE INFORMATION ON FUSION? CONTACT US TODAY.