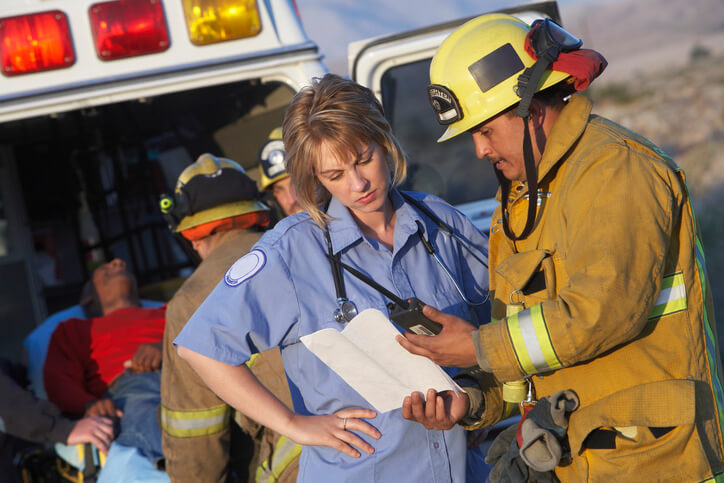 Emergency response times are critical, as they often involve life-or-death situations. Whether it's a potentially fatal injury, a building on fire or an active shooter scenario, the faster first responders arrive at a crisis site, the higher the likelihood of victim survival and loss minimization.
In emergency scenarios, fast, uninterrupted mobile connectivity is essential to helping first responders and other emergency personnel do their jobs quickly and effectively. Notably, robust mobile connectivity improves emergency response times, especially when using advanced state-of-the-art technology to track emergencies as they unfold. 
Let's dive deeper into the role played by mobile connectivity in enabling and improving emergency response.
How Mobile Connectivity is Used in Emergency Response
So, how do emergency response teams leverage mobile connectivity to handle emergencies? Typically, teams of first responders head into crisis situations depending heavily upon the updates they receive from dispatch centers and other response teams already on-site. 
As such, any situational updates must be relayed to these emergency response teams in real time over stable and resilient mobile networks. These networks should support command center logistics, consistent off-grid communication and the latest mobile communication tools and technologies. Recent advances in mobile connectivity solutions can now support these mission-critical communications via:
Satellite networks

LTE networks

4G and 5G broadband
Using these networks, emergency response teams can coordinate with each other during emergencies and communicate by:
Sharing mission-critical files and videos 

Providing precise GPS locations

Enabling communication via wireless earpieces

Accessing information on the go via tablets or laptops
Communication between Emergency Responders
Mobile connectivity helps emergency responders like firefighters receive critical updates about crises unfolding at emergency sites. Using this information, firefighters can prepare adequately for how best to handle the situation. 
For example, dispatch centers and local police officers can use mobile communications to inform firefighters about:
The potential number of victims stuck inside a building

The type of building impacted by a fire

The extent of damage caused by a fire
That said, it's not just firefighters who benefit. Other first responders can use this information for effective crisis management.
GPS Emergency Vehicle Tracking
Mobile connectivity also helps dispatch centers track the number of emergency vehicles dispatched to emergency calls and those closest to the emergency sites. GPS tracking enables dispatchers to route these vehicles through heavy traffic to reduce ETAs to the emergency sites. 
Assisted by fast and reliable mobile connections, dispatchers, local law enforcement and emergency medical teams can precisely track the emergency vehicles in real time.
Real-time Updates and Public Alerts
During high-stress emergencies like fires, active shooter situations or natural disasters, families of victims and the general public will be anxious to hear about any situational updates. Call centers tend to be overwhelmed with hundreds to thousands of calls in such instances.
With reliable mobile connectivity, government agencies can provide updates to the public using dedicated emergency communication systems. These systems can also issue real-time alerts about life-threatening emergencies, protecting the public from harm.
Advantages of Mobile Connectivity in Emergency Response
Now, let's discuss the benefits of mobile connectivity in emergency response situations.
Faster Response Times 
Responding to emergencies requires effective communication and coordination, especially when considering the amount of new information communicated simultaneously from different sources. 
For instance, if an industrial accident occurs with unknown chemical exposure, teams of chemical specialists must be dispatched along with EMTs to assess the extent of harm caused by the incident. Aggregating this information (using stable mobile networks to determine the best course of action) translates into faster emergency response times.
Increased Situational Awareness 
When heading into emergencies with limited information, first responders may not be fully aware of the gravity of the specific crisis. With mobile communication tools, police officers called to an active shooter scenario can gain prior knowledge about the shooter's and victims' locations and the type of firearm in use.
Police officers can then share this information with other officers to request additional backup if the situation escalates quickly. And if these officers arrive at the scene faster than EMTs, they can update them to prepare for a low- or high-casualty situation.
Improved Location Accuracy
Mobile connectivity is critical to locating emergency victims in hard-to-reach geographic locations like heavily wooded areas or rural towns.  Interruptions in mobile communication can be the difference between life and death in emergencies where victims lose consciousness before sharing their precise locations.
With the support of uninterrupted mobile connectivity, 9-1-1 call center operators can use network-based triangulation to speedily route emergency response teams to a victim's exact location during a crisis.
Enhanced Public Safety 
Using the Wireless Emergency Alerts (WEA) system, government agencies can issue real-time updates and alerts to individuals in specific geographic locations. These alerts are typically sent to cell phones or mobile devices as text messages or push alerts. 
For instance, local government agencies can alert the public to impending natural disasters or imminent high-security threats.
Increased Mobile Connectivity and First Responder Solutions at Your Fingertips
Mobile connectivity is increasingly essential to improving emergency response times and saving those in harm. Whether on- or off-grid, a reliable mobile connection can help first responders quickly de-escalate high-risk situations and protect the safety of individuals.
IP Access' First Responder Net solution enables teams of first responders and emergency personnel to stay connected during emergencies by supporting cellular or satellite communication. With access to multiple satellites and cellular networks, emergency response teams can seamlessly communicate with each other and effectively handle emergencies.
We have spent 20 years shoulder-to-shoulder with emergency response agencies to fine-tune solutions that provide the best coverage and reliability. 
No matter the situation, we've got you covered. Contact us today to learn more about First Responder Net.