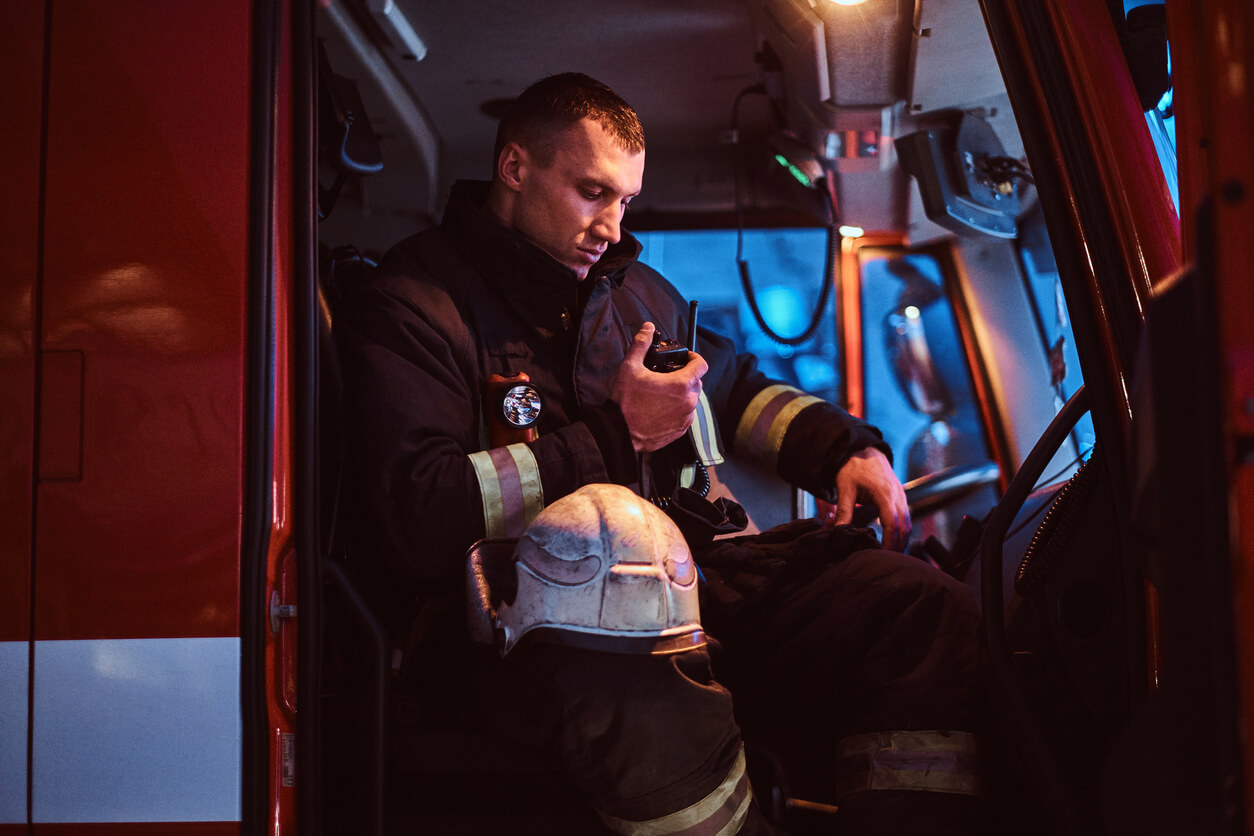 Establishing off-grid communications for first responders, team leaders and volunteers during a natural disaster or crisis scenario is crucial. As a result, many public safety agencies incorporate an off-grid network and secure devices to ensure consistent connections. 
How do you set up emergency communications at a crisis or disaster site? Generally speaking, you can follow four steps to set up and operate high-quality comms:
Establish team roles

Assess and set up the site

Distribute devices and confirm network connectivity

Test the system
However, first responders and crisis center staff must also consider command center logistics, ensure consistent connectivity between all teams and use the best available communication tools to keep everyone in the loop. 
Let's break down this four-step process and these additional considerations in more detail to help you make an airtight comms plan before your next deployment.
1. Establish Team Leaders and Assign Comms Roles
After arriving on site and assessing the scenario, you'll need to set up your comms system immediately. The first step in this process is establishing team leaders and other critical comms roles.
You should designate a point of contact for every team, including:
First responders and governmental agencies

Volunteer groups

Medical staff

Transport

Security
Establish each team leader's role on-site and—even if the system isn't 100% ready yet—inform them that a network connection and devices are on the way. 
2. Assess Your Site
Next, assess the immediate area and identify critical points as applicable, like:
Security checkpoints

Civilian safehouses and shelters

Supply storage

Medical treatment areas

Volunteer tents/tables
If you have time, consider drawing a rudimentary map of the site. Then, once the network is up and running, you can send it to all connected devices.
When preparing to set up comms, perform two crucial steps once you get the lay of the land:
Identify line-of-site points and position relays (if you're using a mesh-based system)

Position your comms headquarters or command center in a central, strategic location
Make sure every team leader knows where to find the command center. 
3. Distribute Devices or Confirm Connectivity for Personal Devices
Once you've established a command center and positioned your mesh relay hubs (if applicable), connect your devices to the network and begin distributing them to critical team members.
Depending on the nature of the crisis, assigning two to three civilian representatives may make sense, giving them devices with network access and asking them to share intel with other civilians. 
After distributing the devices, confirm that they're connected to the network and that every recipient can use theirs. You can do this in one of two ways:
Host a quick briefing at the command center. Depending on the situation, you might not have time to gather every team leader in one location.

Assign comms team members to track down critical leaders, give them a device and confirm the connection
Most importantly, ensure that every device's notifications are in working order. Missing a notification could be disastrous in a crisis.
4. Test the Off-Grid Comms System
After distributing all the devices, test the network and the comms system. Consider adding the following steps to your standard operating procedures (SOP):
Performing a speed test to establish on-site standards

Sending individual messages to team leaders and confirming receipt

Sending a mass notification or message to every device and confirming receipt
If any devices aren't receiving messages, troubleshoot as soon as possible.
In addition, consider scheduling regular comms tests throughout your time on site. As the situation changes, you may need to add or reassign devices, and periodic tests will help ensure constant network and device function. 
Off-Grid Communications: Considerations for First Responders
The steps above will help you establish off-grid communications for first responders and other team leaders at a crisis site. But what else should you consider before and during your deployment? 
Establishing a Command Center
A command center is the locus of any disaster or crisis area—it's where every team member, volunteer, first responder and civilian can go for additional information, help with comms and devices and general on-site support.
During training, make sure to:
Document SOPs for command center setup

Make a plan for site challenges like rough terrain

Address as many concerns as you can

before

a deployment scenario
Making Sure Everyone Is Connected to the Same Network
When you arrive on-site, local team members might have access to their own local cellular networks. 
Even if some leaders need to use their own mobile devices, confirm that everyone possesses a device connected to the same off-grid or mesh network. Connecting all leaders over the same network can prevent:
Security risks or threats (especially in front-line or battle recovery scenarios)

Lags between the local network and the off-grid/mesh network

Lost comms due to outages on the local network
Considering Off-Grid Solutions Before Your Next Crisis Deployment
Throughout this guide, we've touched on off-grid networks — powerful tools you shouldn't overlook as you prepare for your next deployment. Since radio communications were identified as the number one concern among the 1729 first responders interviewed by the National Institute of Standards and Technology (NIST), you need guaranteed connections.
Off-grid networks, like First Responder Net, offer:
Consistent connectivity, even if the local network is down

Static IP addresses for increased cybersecurity and simplified configurations

A large-scale network combining the power of satellite

and

cellular networks worldwide
Verbal comms are helpful in a disaster or crisis scenario, but high-quality network connections allow fast, consistent communication to all devices on the network without outage concerns. Organizations that might benefit from an off-grid network include:
First responders and disaster response teams

NGOs and international aid organizations

Medical response teams

Crisis area security teams

Volunteer or official transport teams
As always, implement training that prepares your team to use any assets you invest in—First Responder Net offers on-site training and 24/7/365 support to all users. 
You can't afford to be left without comms in a crisis scenario. An off-grid solution could make or break your next deployment.
Join The First Responder Net Community
Whether deploying a local rescue mission or traveling across states, countries or oceans to support communities in crisis, first responders need arsenals full of powerful tools, and comms are no exception. 
If your organization is looking for an off-grid solution for future deployments, look no further than IP Access International. Our First Responder Net solution is a network of networks designed for public safety and first responders who need reliable network access when it counts. 
We've spent the last 20 years shoulder-to-shoulder with first responders, fine-tuning our communications solutions to provide the best and most reliable coverage on the market. No matter the situation, First Responder Net has you covered.