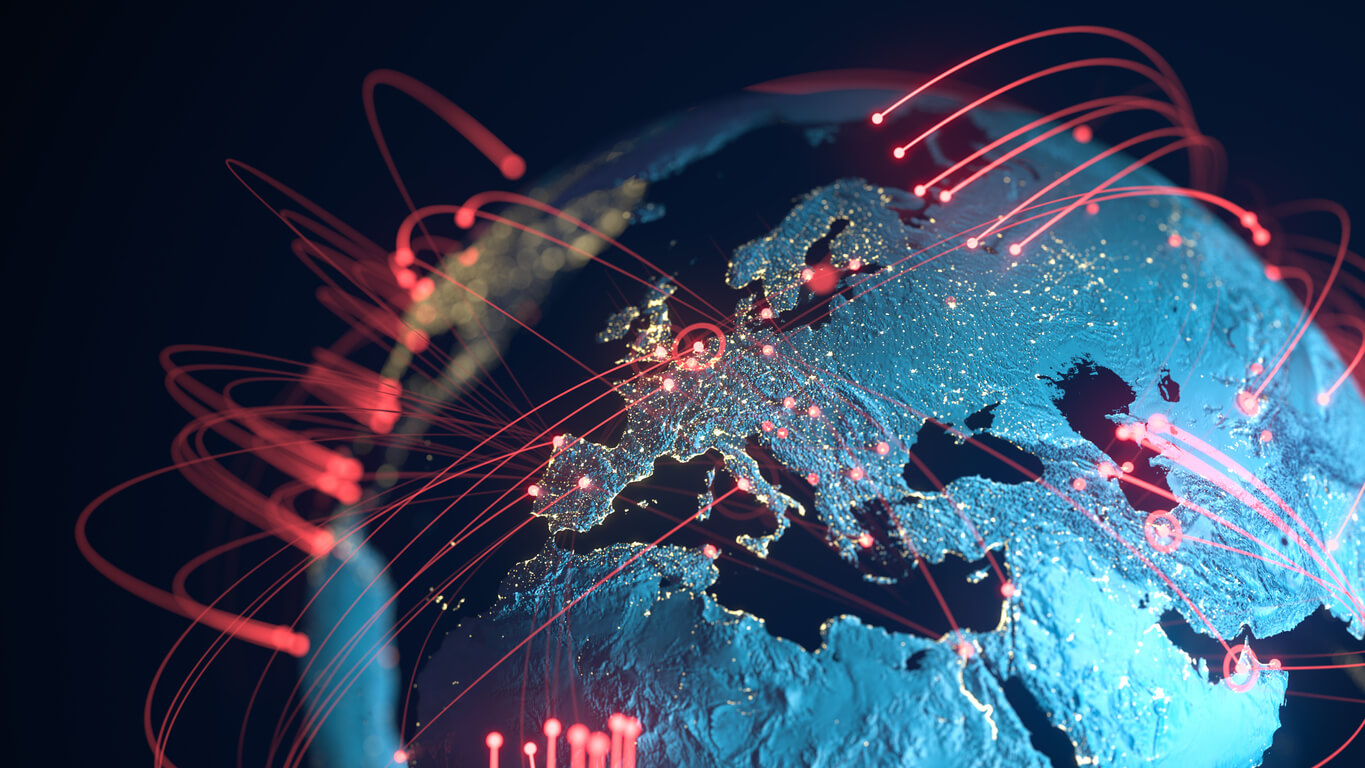 Reliable, high-bandwidth internet connectivity is a must in today's technology-reliant landscape. However, having just a single connection is no longer enough. Smart Blending Technology ensures that your organization stays connected, even for mobile workers and remote locations. 
Many organizations depend on cloud services for collaboration, productivity, and communication — not to mention critical data backups and business applications. Smart Blending Technology provides greater bandwidth for business internet connectivity while increasing reliability and expanding coverage.
What is Smart Blending Technology?
Dejero, a leader in live video transport and real-time data transfer, developed Smart Blending Technology to overcome the technical obstacles that limit most traditional connection aggregation methods. Smart Blending Technology delivers greater reliability and faster aggregate connection speeds by combining the bandwidth of multiple network providers and diverse technologies. This makes Smart Blending an ideal solution for:

Public safety organizations

Transit and transportation services

Critical infrastructure

Broadcast and media companies

Enterprises 

Mobile workforces

Business continuity 
How Does Smart Blending Technology Work?
Smart Blending measures dynamic connection characteristics in real-time, intelligently distributing flows across multiple links on a packet-by-packet basis. With Smart Blending Technology, organizations can leverage the full combined potential of their individual internet connections rather than being limited to a minimum threshold for implementation simplicity.
Although more "traditional" connection aggregation solutions have been developed for wired broadband technologies, they are typically limited to stationary applications. Even in these situations, the technology is less efficient because it assumes links have static characteristics, keeping flows "sticky" to a single link or connection.
Unlike other solutions, Smart Blending combines multiple wired connections like broadband and fiber with wireless IP connections like 3G/4G/5G, WiFi, and satellite internet. This creates a virtual "network of networks" that can dynamically manage multiple internet providers in real-time to find the fastest, most reliable connection available.
IP Access International's FUSION supports Smart Blending by enabling organizations to seamlessly access satellite, cellular, and FirstNet based on the presence and quality of available networks.
Smart Blending's Benefits
Having a single connection is not enough for organizations that depend on online services like cloud-based storage and other enterprise applications like software-as-a-service (SaaS). Without sufficient bandwidth, organizations can experience slower internet speeds or even downtime, affecting their overall business operations.
Here are some benefits of using Smart Blending Technology to manage multiple internet connections.
Enhanced Reliability
By aggregating different network technologies from multiple providers, Smart Blending uses connection diversity to improve network reliability. For example, if a connection is lost or becomes congested with traffic, Smart Blending Technology redirects packets in real-time to maintain the connection.
As more organizations expand into more challenging or remote locations, they need connection aggregation for improved reliability and quality. Reliable connectivity anywhere is incredibly valuable for many applications, including mobile users like first responders, public safety, transit and transportation, and enterprises with remote workforces.
Greater Bandwidth
One of the most significant benefits of using multiple internet connections is the expansion of available bandwidth. However, traditional connection aggregation solutions usually have limited access to the total bandwidth available, trading performance for simplicity.
In comparison, Smart Blending Technology constantly measures each internet connection in real-time to determine the fluctuation in bandwidth. Even as bandwidth varies over time, Smart Blending can dynamically distribute packets across multiple connections to increase the overall capacity.
Expanded Coverage
Remote working has become part of everyday life, and having reliable mobile internet is now the standard for businesses. However, internet connectivity options are often limited in remote locations or mobile applications. From enterprises with multiple branches to critical infrastructure in remote areas, organizations need to be able to stay connected anywhere, anytime.
Connection aggregation improves the quality of your internet connection and extends coverage to practically anywhere in the world. Smart Blending combines multiple provider services into a single reliable connection to create greater network coverage than what a single internet provider could provide on its own.
Stay Connected Anywhere With Smart Blending and FUSION
Whether you need reliable internet access for your remote workforce or a backup connection to cloud services, Smart Blending Technology combines multiple connections to improve reliability, bandwidth, and security.
This innovative approach to connection aggregation reduces common issues like traffic congestion and latency while providing reliable connectivity to cloud-based services and other enterprise applications.
At IP Access International, we combine Dejero's cutting-edge Smart Blending Technology with our FUSION technology to enable seamless access to satellite, cellular, and FirstNet internet connections all at once. So rather than manually monitoring and switching carriers to stay connected, you can rest easy knowing that you have reliable mobile internet access even in the field.
Contact us today to learn more about adding multiple internet connections to your organization.