PERC - PORTABLE EMERGENCY RESPONSE CENTER
MAN-PORTABLE GLOBAL EMERGENCY COMMAND CENTER
Simply press the power button, raise the LTE and Wi-Fi antennas or point the BGAN or VSAT antenna towards the southwestern skyline for satellite connectivity. In less than five minutes the PERC will connect to available cellular networks, a predetermined satellite and (optionally) local radios to establish a low cost wireless communication center for any approved, in-range devices. This man-portable command center delivers, in worst case scenarios, broadband speeds of no less than 464 Kbps to 20 mbps and supports up to 20 concurrent wireless devices with VOIP or data transmissions. Four ethernet (RJ-45) POE ports are available in the PERC case to facilitate to higher speed, greater bandwidth, wired connections, when available. Choose from a CradlePoint or Pepwave LTE router design.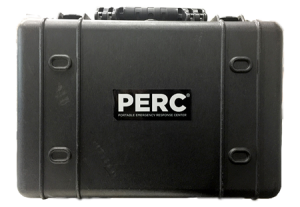 BUILT-IN RUGGEDNESS
Each PERC is built with components designed for extreme environments. Electronics components are produced by major US electronics and communications manufacturers. We have also partnered, to facilitate optimally priced communications services.
SIMPLE TRAINING – GLOBAL OPERATION
Simplicity and performance was our goal when developing the PERC. There is only one button, the blue power button, so once it's turned on, everything else is automatic. Each case will operate for up to 48 hours on a single charge, or operate continuously while plugged in any vehicle DC power port or any 110 or 220 VAC wall outlet. A power meter provides users with the time remaining on the batter charge. An indicator light lets you know when you are charging the battery. A conveniently placed fuse permits rapid maintenance in the event of a fault.
MULTIPLE COMMUNICATIONS MODES AMD INTERCONNECTIONS
The PERC is able to provide wireless communication in the form of radio (ROIP), cellular, WiFi and satellite. In addition, GPS is enabled for precise location data. In addition, however, when wired communications resources are available, multiple ports are available for connections to higher bandwidth modes. An optional iDirect modem circuit board can be included in the unit to support a fly away satellite system.
Additional IP Access Global Solutions
Experience The Fastest Speeds In The Industry
UP TO 20 MBPS X 5 MBPS
Service plans as low as $250 per month, contact us today for all service options
Our network was built from the ground up with public safety and emergency communications in mind. Every component was designed for reliability to provide the highest level of connectivity all backed by 24/7 support.
User-selectable satellites

PUBLIC IP ADDRESSES INCLUDED AT NO CHARGE

NO IP ADDRESS RECONFIGURATION REQUIRED DURING SATELLITE CHANGE

Teleport relocation for inclement weather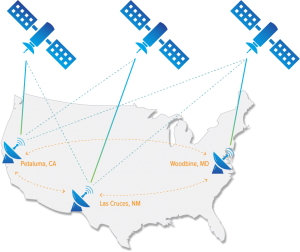 IP Access is readily available to discuss your satellite communications needs.
Let us help you craft a solution that meets your specific requirements,
ranging from your own cache of equipment stored on-site to preventative maintenance programs to turn-key rental solutions.