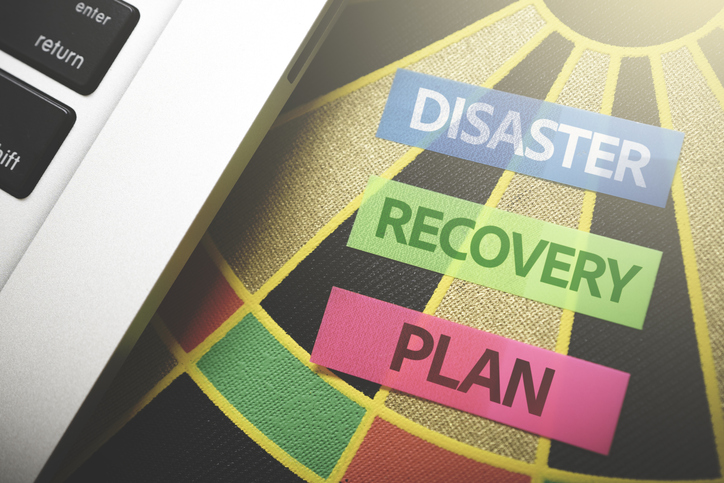 Fires, system failures, hurricanes and even a mouse in the wall all have one thing in common: They have the potential to bring down your business with no warning. Although it may seem overwhelming, preparing for the unexpected is easier with a disaster recovery communication plan template.
According to FEMA, over 40% of small businesses do not reopen after being hit by a natural disaster. A business continuity plan or disaster recovery communication plan checklist keeps strategies and actions aligned, minimizing loss after an emergency or crisis. This blog will explain why a communication plan is essential for emergency response and share a disaster recovery communication plan template to help you prepare in case disaster strikes. 
What is a Disaster Recovery Communication Plan?
While no one expects a business to get back to normal right after a crisis, people want to stay informed of what's going on. A disaster recovery communication plan lays out essential steps for sharing information with your employees, clients and other key stakeholders during and after a disaster.
For instance, communicating with employees could include informing them not to go on-site after an electrical fire, along with instructions on how to work remotely so business can continue as smoothly as possible. 
In addition, your external crisis communication plan can range from discussing the disaster with the media and updating key clients and stakeholders to the unfortunate task of notifying family members of an injury or death.
No matter the situation, having a disaster recovery communication plan ready to go will make it much easier for your business to maintain business continuity and get back to regular operations as quickly as possible.
Read: Disaster Preparedness 101 for Businesses
Disaster Recovery Communication Plan Template
A large corporation might bounce back from a disaster quickly, but small- to medium-sized businesses often need more time, making communication even more critical.
Your disaster recovery communication plan should be customized for your business and address specific concerns based on your industry, location, client base and operational capacity. Here's a disaster recovery communication plan template to help you get started.
Maintain Current Data Backups
Without your company's data, recovering from a disaster becomes much more difficult, if not impossible. Regularly backing up your data is already a best practice for cybersecurity, and it's even more critical to protect your data from further damage or loss after a disaster.
While some businesses prefer to store their files on-site, backing up data to the cloud is much more secure. Consider mixing both approaches and storing critical information like internal contact information for employees and information on your customers, vendors and business partners on the cloud. 
Then, in case your business's physical data storage is impacted by a disaster, you will still be able to get in contact with your team and external stakeholders to keep them informed while you recover.
Create a Disaster Communications Team
Your disaster recovery communications plan is only as good as the people executing it. By setting up a disaster communications team ahead of time, you can rest easy knowing this team is prepared to implement your plan if a crisis occurs.
Senior management and department leads are the most logical choices for a disaster recovery team since they are the most familiar with essential processes in your organization. However, make sure to assign an alternate point of contact to each role if someone is out of town or otherwise unable to do their part in the disaster recovery plan.
Gather Emergency Contact Information
You might be thinking, "I already have my employees' contact information. It's saved in my work email." And you'd be right — but what if your email system goes down in a crisis?
To ensure your team stays connected, we recommend collecting your employees' personal email addresses and phone numbers so the recovery team can still contact everyone if your enterprise email system is down. For larger organizations, each department head should create a master list of their direct reports' emergency contact information that can be shared across teams if needed.
Inform Stakeholders
During a disaster, it is critical that you inform your clients about the current situation and your business's plan to recover. They need to know that your company will continue to service their accounts while doing everything to get back to business as usual. If you don't reassure your clients, they might look for another company to work with, costing you even more than any damage caused by the original disaster.
Other key stakeholders like vendors, suppliers, and business partners should also be updated right away if you need to defer shipments or push back other projects while your business recovers. Some partners might even be able to offer support or advice to help your organization get back on its feet.
Keeping in contact with external stakeholders is critical to a successful disaster recovery plan. In addition, many businesses use backup communications like satellite internet and other business continuity services to ensure their systems stay online under any circumstances.
Decide on Communication Strategies
How you communicate information about a disaster depends on your audience, including management, employees, clients, suppliers, regulators, the media and the public. For example, you can be more open about details like property damage and lost data that could extend the recovery period with your employees. However, you must also notify employees of any safety information about work locations and what information they can share with others.
External communications, particularly with the media and the general public, can be a little tricky. If the situation involves damage, injuries or death that extends beyond your organization, then it is critical that you do not hide that from the public. That doesn't mean you need to share every detail in a press conference, but being transparent about the situation and your disaster recovery plan will ease people's concerns and give your organization a reputation for honesty and reliability.
Create a Unified Message
Before sharing information about a disaster with anyone, take time to assess the situation and develop a unified message about how your business plans to recover. During an emergency, it is essential that your organization speaks with one voice. Not only will this position your company as well-organized and prepared for any challenge, but it will also help you to avoid sending mixed signals, especially on social media.
When crafting your official message, consider creating "tiers" of who needs to know what. For example, senior leadership needs to know the most about the situation, followed by the rest of your employees, then your business partners. In most scenarios, the media should only be given essential details, like closures or damage to areas beyond your property, typically through an official press release.
Practice, Practice, Practice
So you've created a disaster recovery communications plan, established a team that knows what to do and prepared your communication strategies. Now it's time to test out your plan so that if and when a disaster strikes, you are already familiar with the process.
By regularly running through your disaster recovery plan, you can identify problem areas and make improvements to ensure your plan is effective. For instance, you might find that it's more efficient to have department heads contact their team members rather than a single person on your disaster recovery team.
Get Started with a Disaster Recovery Communication Plan Template From IP Access International
Don't let a natural disaster or system failure shut down your operations. IP Access International offers a wide range of business continuity communications solutions from mobile satellite internet to emergency communications trailers so your business can find an option that works best for your needs.