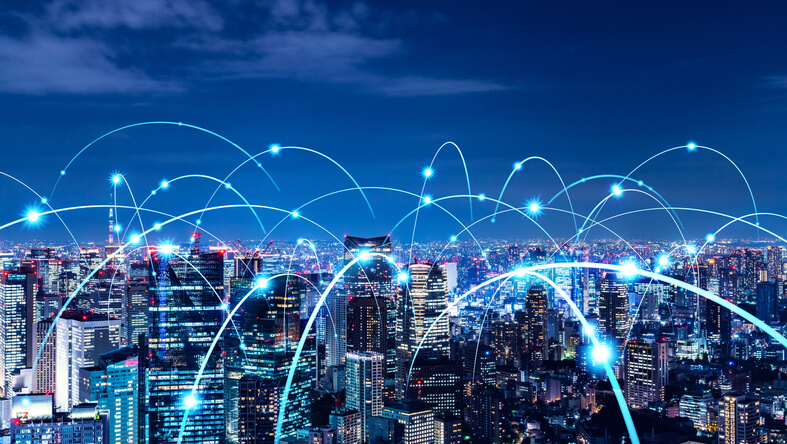 There's no denying it: Modern business depends on internet connectivity. Without a fast, reliable connection, device functionality suffers and communications grind to a halt.
However, the world's internet connectivity needs are far from fully covered by traditional means. At least 5% of the global population lives in areas with zero 3G or 4G network access. Even in the US, 4% of the 24 million households without an internet connection are offline due to a lack of availability.
But our world is increasingly on the move, and sometimes work takes us to these unconnected places. Even well-connected areas can sometimes experience slow performance or dead zones. When you're conducting business, those issues simply won't do.
The solution? A mobile business connectivity service.
Mobile Connectivity Criteria: What to Consider
So, a mobile connectivity solution can solve your internet-on-the-go woes. But not all providers and plans are created equal. Which one should you choose?
As with all significant purchases, it pays to define your needs and do your research—especially with something as integral to your business as internet connectivity. Here are eight factors to consider when shopping for a mobile connectivity solution for your enterprise: 
Cost

Security

Speed

Latency

Reliability

Availability

Equipment

Customer Support
Cost
As a business, a significant part of your focus is likely on your bottom line (and rightfully so). As such, cost should be one of the first factors you consider when selecting a mobile business connectivity solution.
However, estimating how much you should spend on a mobile internet solution without knowing your specific needs is challenging. Connectivity costs can vary depending on:
Bandwidth

Speed

Contract length

Your organization's headcount
The best way to gauge typical costs is to explore several providers and ask for a quote.
Of course, the adage "You get what you pay for" also applies to business internet connectivity. Once you have a quote, you must assess what it includes. An inexpensive plan may be appealing initially, but if it doesn't have the features you need, you'll pay more in the long run to supplement it.
Security
Regardless of the industry your business occupies, security is non-negotiable. Globally, the average data breach cost is $4.35 million; for US businesses, that figure reaches a staggering $9.44 million.
As such, you'll want a mobile connectivity solution with built-in cybersecurity features like data encryption. Additionally, you can look at a provider's track record to see if they've ever had any security breaches.
You can (and should) opt for extra security measures. Choosing a security-minded provider is always worthwhile.
Speed
Your mobile internet speed dictates how fast you can send and receive data on the go. Speed is one of the most vital factors to consider, as a slow internet connection can significantly hinder your operational efficiency. 
According to the FCC, most forms of communication—including email and VoIP calls—are possible with download speeds as low as 1Mbps. However, for more intensive activities like file sharing and video calls, at least 10Mbps is ideal.
You should seek out high-speed broadband access with minimum download and upload speeds of 25Mbps and 3Mbps, respectively. Depending on your business needs, you may need considerably higher capabilities.
Naturally, higher speeds equate to better performance, but there is an upper threshold to how much speed your organization needs. A top-of-the-line plan may be overkill unless you routinely engage in high-bandwidth activities like:
Transferring large files

Streaming high-quality video

Teleconferencing with numerous participants
Latency
High upload and download speeds are only half the picture. Latency—the delay in communication from one device to another—is another variable that can affect your internet performance. 
In general, lower latency is better. Anything under 100ms is usually suitable for most businesses.
Simple tasks like checking email and browsing the web won't be affected much by higher latency. However, latency becomes an issue for many businesses because standard applications often time out at the 350ms mark.
Latency figures are especially crucial if you're considering a satellite connectivity solution. Most internet satellites are in geosynchronous orbit and can have a latency as high as 600ms. However, providers using low Earth orbit (LEO) satellites like OneWeb or Starlink can all but guarantee latency under 100ms.
Reliability
Promises of high speeds and low latency are only appealing if the provider can deliver on them. With that in mind, network reliability should be high on your list of factors to check.
The easiest way to see if a mobile business connectivity solution is reliable is to check the provider's downtime figures. An ideal benchmark is 99.99% uptime, which equates to less than an hour of lost connection per year. Considering that every minute of unplanned downtime can cost your business thousands of dollars, it pays to choose a reliable connectivity solution.
Reliability is crucial for first responders and healthcare organizations, where every minute counts. An ultra-reliable blended mobile connectivity solution can help your business stay online at all times by combining cellular and satellite networks as needed.
Availability
If you conduct business outside of well-connected areas, you'll also want to ensure that the internet will be available—whether in one static location or hundreds of different sites.
Mobile connectivity solutions that run only on cellular networks won't cover every part of the globe, as they may rely on terrestrial towers. For more coverage (especially in remote areas), it's worth looking for a blended mobile connectivity solution that combines cellular and satellite technology. That way, you won't have to worry about availability—you can access the internet from anywhere.
Equipment
Another factor to consider is the connectivity company's consumer-facing technology. Connecting to the internet means using various modems, routers, antennas and cables. As such, you'll want to ensure any equipment is:
Easy to use

Durable

Affordable (for installation and device rental)

Compliant with your power requirements
It's also worth looking for flexibility. For example,  IP Access International offers a range of hardware solutions, including a "Bring Your Own Device" option for those who only need internet service. When you choose an adaptable provider, you can more easily customize a plan that suits your budget and business needs.
Customer Support
With a reliable connectivity solution, you shouldn't need to contact customer support very often. But if and when things go wrong, you'll want to know that support is available, especially in high-stakes industries.
To that end, look for providers that offer 24/7/365 customer support. Whether you need to troubleshoot an outage or discuss your most recent bill, knowing a representative is ready for your call is comforting.
IP Access: Your Partner in Mobile Business Connectivity
Once you know what to look for in a mobile connectivity provider, your search simplifies. You can find the mobile connectivity solution that fits the bill by listing your business needs and comparing costs, features and reviews.
Alternatively, you could stop searching because you've already found the best. For a high-speed, low-latency mobile connection that comes with industry-leading equipment and round-the-clock customer service, look no further than FUSION from IP Access International.
FUSION technology combines our FirstNet solution with cellular and satellite networks. With FUSION, you never have to worry about losing coverage – if you can't connect, the system automatically switches you to another cellular network. If no carriers are available, you'll connect to a robust satellite network, so business stays up and running.
For more information on pricing and plans, contact us today.